Engineering Alliance Europe
Hasselt / Stuttgart, 25 May 2022 – With SCIA, FRILO and DC-Software, three leading European providers of software solutions for structural design and analysis intensify their collaboration and join forces in the Engineering Alliance Europe. The strategic cooperation underpins the philosophy of the Nemetschek Group to shape the digital transformation in the AEC/O industry as a forerunner.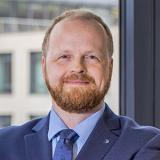 The aim of the newly formed Engineering Alliance is to provide structural and civil engineers a comprehensive overall package of structural representation and calculation options that is unparalleled on the market. The three established brands will remain in place but will work closely together in the areas of software development, service and product management in order to use potential synergies in the best possible way and drive the digital transformation. 
The special solutions of the three software providers already complement each other perfectly. While users can clearly display and calculate complex 3D models with SCIA Engineer, FRILO and DC-Software convince with simple, time-efficient static calculations of individual components in structural and foundation engineering. "Used in combination, the solutions we offer in the Engineering Alliance already cover a large part of our customers' practical use cases and provide them with maximum workflow flexibility," says Markus Gallenberger, who has been managing the three brands as CEO since April 2022. With over 20 years of experience in information technology, Gallenberger is the perfect fit for this position.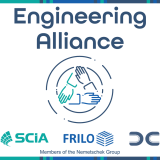 The Engineering Alliance plans to maximise interoperability between the software systems involved in the medium and long term. Existing interfaces will be expanded and new, beneficial transfer possibilities created. "The digital transformation of the construction industry can only be achieved through cooperation," Gallenberger emphasizes. "We are pleased that we have now been able to join forces with the Engineering Alliance to further expand our strong position in the market. In the long term, our customers will benefit not only from an enormous solution portfolio, but also from the possibility of exchanging data in an automated and loss-free manner." 
Watch the interview with Markus Gallenberger
ABOUT FRILO 
FRILO has been offering powerful and user-friendly software solutions for structural design for over 40 years and has become a leading provider in this field on the German market. Thanks to the orientation on the principle of positional statics, which forms the basis of the innovative product portfolio, the load-bearing capacity of individual components of different design and material variants can be verified separately and precisely. With more than 150 calculation programs, it is ensured that the available solutions meet the requirements of the everyday work of a structural engineer accurately. FRILO, with its headquarters in Stuttgart, has been integrated into the Nemetschek Group as an independent brand since 1999. More information at www.frilo.eu
ABOUT SCIA 
Founded in 1974, SCIA has become one of the world's leading developers of structural design and analysis software that supports the Open BIM process. SCIA is a wholly owned subsidiary of the globally operating Nemetschek Group, a pioneer for digital transformation in the AEC industry. SCIA's core purpose is to help users to create their best structural designs. To do so, the company provides powerful, cutting-edge software through a continual process of improvement, innovation and customer input. More information at www.scia.net.
ABOUT DC SOFTWARE 
DC-Software in Munich, Germany, develops and distributes software for soil engineering since 1989 and therefore provides more than 30 years of experience in this area. In 1991 DC-Software Doster & Christmann GmbH was founded. The company exclusively concentrates on their area of expertise: software for soil engineering. More information at www.dc-software.com.