SCIA Engineer 16 brings a vast number of enhancements, extensions and modifications that extend throughout the whole workflow of a typical engineer. Some of them address users specialising in specific types of structures, others simplify the daily work of every structural engineer.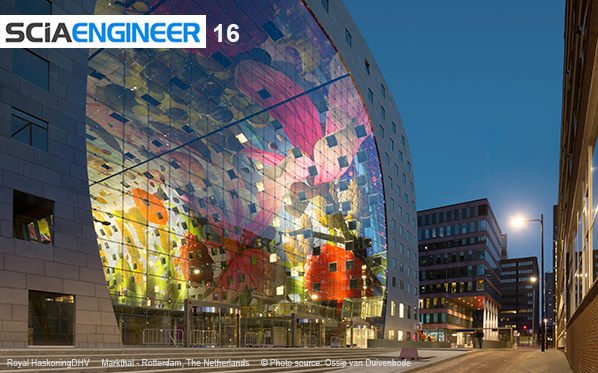 The improvements appear in all phases of the project workflow: initial modelling, precise analysis, code-complying design and presentation of results, and all share the same primary goal: USER SATISFACTION
Key improvements include:
Much faster, transparent and more comprehensive design of concrete beams, columns and ribs
A new "Section check" tool for detailed analysis of a concrete section
Expanded composite beam design for both AISC and EN1994
Seismic concrete frame and shear wall design to US codes
Various improvements for meshing & advanced analysis
 
View the highlights below, or read all details in the  SCIA Resource Centre
You can also ask for a Free SCIA Engineer Trial
New advanced analysis options
A series of new options have been added to the analysis part of the software:
Four types of yield conditions are now available for general plastic analysis of shells: Von Mises, Tresca, Mohr-Coulomb, and Drucker-Prager
New parameters in the Solver setup allow for better control of the convergence of non-linear analysis, make it possible to neglect masses in a specific direction or choose the method for time history analysis
Improved stability of the Soil-in calculation for very deep foundations
Membranes are now analysed using triangular elements for a more robust convergence
Equivalent Lateral Forces (ELF), newly implemented in SCIA Engineer, is a well-known method for the seismic analysis of structures; even though being quite conservative, it is very popular for its simplicity
Automatic mesh refinement now works with a user-defined group of load cases
Graphical representation of strains and stresses
The advanced graphical visualization of 3D stresses and strains was extended:
2D strain values can now be visualized: basic total strain, principal total strain, basic plastic strain, and principal plastic strain
Correct handling of 3D stresses display when the load is applied in the centroid instead of shear centre
Table Results – more interactive than before
A series of new options have been added to the analysis part of the software:
New graphical mark to highlight in the 3D model the position of a specific value from Table Results
Faster opening of Table Results and refreshing of the values after change
A double-click on a particular value in Table Results opens a detailed code-check, if applicable
Option to remove table results from saved projects to reduce file size
Validity status and one-click-regeneration ensure that the values are constantly up-to-date
Engineering Report smoothly handles large reports
The Engineering Report, the primary tool for the preparation of comprehensive and clear documents about the performed analysis and design, presents a few new features and, primarily, optimised memory handling. Thanks to this improvement, the engineers are now able to, for example:
Import A0 drawing in 600 DPI quality
Include hundreds of high resolution pictures in the same report
Import ECtools calculation reports
Import external PDF files
Additionally, it is now possible to send the content of the Engineering Report to MS Excel without formatting.
BIM updates
The links to 3rd party software were updated to support their latest versions:
A new, IFC-based, interface replaces the old link with Allplan. This IFC interface has been optimised for the exchange of data with Allplan and thus no additional manual settings are required.
SCIA Engineer 16 is compatible with Tekla Structures 2016.