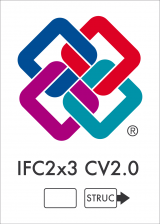 IFC 2x3 Coordination View 2.0 certification
Industry Foundation Classes, IFC, are the main buildingSMART data model standard to facilitate interoperability in the architecture, engineering and construction (AEC) industry. The IFC format is registered by ISO as ISO/PAS 16739. IFC is used to exchange and share BIM data between applications developed by different software vendors without the software having to support numerous native formats.
The "IFC Certification 2.0" is an improved implementation of the former "IFC2x Certification" procedure. The most important achievement of the "IFC Certification 2.0" procedure is a detailed quality control approach for the IFC interfaces on top of the self check performed by the software developer.
SCIA Engineer was the first application that received the IFC 2x3 CV2.0 certification for structural models.
For more info see:  http://www.buildingsmart-tech.org
 
CTICM Certification for Eurocode 3
CTICM (French Steel Construction Institute), a major reference for steel construction in France and in Europe, evaluated and certified our implementation of the Eurocode 3 part 1-1 in SCIA Engineer.
The detailed analysis by the CTICM investigated the benchmarks produced by SCIA as well as many complementary tests. Next to that, the ease of use and the documentation provided were also considered.
The conclusion was positive and the CTICM evaluators declared "having appreciated the level of performance of the software for the steel code check considering the complexity of the Eurocodes to be implemented".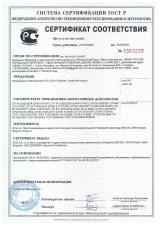 Сертификат соответствия - Certificate of conformity GOST
SCIA Engineer has also been certified in Russia by the Federal Agency on Technical Regulation and Metrology. The Russian government agency that serves as a national standardization body of the Russian Federation has certified SCIA Engineer as a software suitable for calculations in Russia.