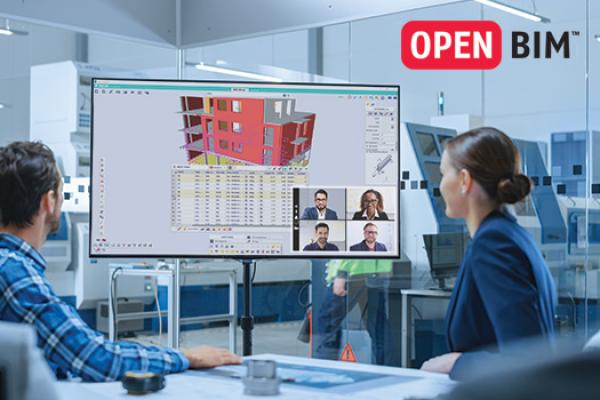 openBIM is a progressive, future-proof approach to AEC collaboration. It helps connect stakeholders such as software vendors, software users (architects, engineers and builders) as well as clients/owners to co-create great buildings. openBIM ensures workflow transparency, longevity and accessibility of data for built assets. 
openBIM is based upon open standards such as IFC from buildingSMART. SCIA and the Nemetschek Group fully support buildingSMART's openBIM program. We are also fully dedicated to the high-quality standards defined by our openBIM Charter and represented by our openBIM logo.
We believe that
Interoperability between project stakeholders must not be used as grounds for competition. 
Free choice of software in project work must be a basic right for any project stakeholder. 
Proprietary format mandates must not be used to exclude candidates from project work. 
Interoperability should be facilitated via development and support of open standards. 
Rigorous testing and certification criteria is a must for quality support of open standards. 
Industry stakeholders must publicly endorse and promote openBIM in the AEC community.
 
openBIM in practice
Please visit Nemetschek Brands' openBIM pages for open workflow solutions and reference projects showcasing how openBIM contributes to projects delivered within budget and on time, ultimately contributing to a better built.
SCIA Engineer in connection with other software

IFC
IFC can be used to share structural models between programs. 
IFC is also used by the Allplan Bimplus platform to read and store models.
 

SAF
SAF is an open exchange format for structural analysis models. 
SAF can be used to share analysis models between applications. 
 

Proprietary connections: Revit
This connection uses the internal format of Revit. 
Full roundtripping available between Revit and SCIA Engineer.

ALLPLAN
Full roundtripping between SCIA Engineer and Allplan available via the SCIA  Autoconverter. 
XML interface
It is possible to exchange data via an XML file. This can be used to build a bespoke solution. For example, Koala, the Grasshopper link, uses XML.
In fact, this XML link can be used to call SCIA Engineer in the background of a third-party software.
 
Open API
You can create models and read results from SCIA Engineer via our Open API interface in order to connect SCIA Engineer into your own workflow.
Other file formats
In addition to the above-mentioned links we also support a few other file formats like SDNF, Frilo GEO, DXF, DWG, VRML.
Other
Read more about how our software connects to other software solutions.