Industry Workshop SCIA Engineer
Industry workshop organised by SCIA and hosted by The Institution of Structural Engineers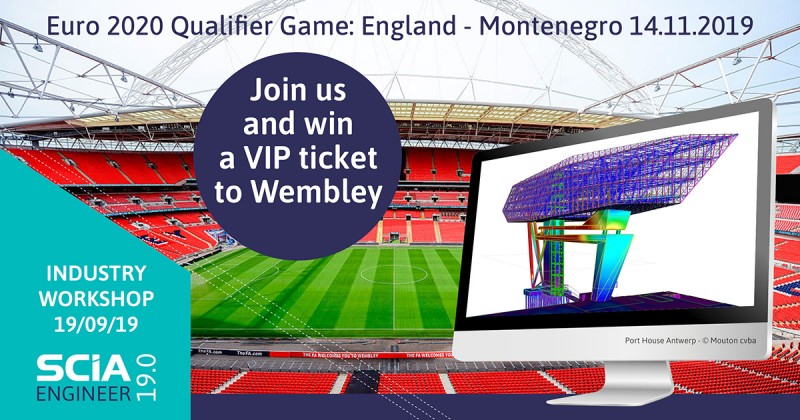 On Thursday 19 September 2019, you can participate in the SCIA industry workshop hosted by The Institution of Structural Engineers.
This is a unique opportunity to learn about a variety of topics on how to overcome the everyday structural engineering challenges with the help of structural engineering software. Experts from SCIA and the industry will present you all the latest insights. You will also have the opportunity to network with your peers from the industry. 
Each of these topics will be illustrated and demonstrated with insightful, practical cases from real-life projects.
For all attendees, there is a chance to win a VIP ticket (value £300) to the Euro 2020 qualifier game England-Montenegro on November 14th, 2019.
Program
8h.30
Welcome & Coffee
9h.00
Kick-off
9h.30
Concrete design with focus on flat slabs 
Learn how to create economical design of reinforced concrete elements with minimum manual work. Follow the automated design process and generate an always up-to-date calculation report.
* + Practical user story by Mr. Alexandros Byron Bezas (Ellis and Moore)
10h.30
Coffee break
11h.00
Steel design with focus on composite floors 
Find out how to create economical and safe steel & composite design complying with Eurocodes (EN 1993 & EN 1994) and reflecting recommendations from relevant SCI publications.
11h.45
Flexibility in modelling + practical user story
Model, visualise, and analyse structures, materials, and loads in a CAD-like environment. Familiarise yourself with numerous tools to create, organise, and maintain the model effectively with full control over all input data and results.
* + Practical user story by Mr. Vivan Lawrence & 
Mr. Alex Da Silva (Design Engine Structures)
12h.30
Lunch
13h.30
The benefit of using Engineering reports (calculation reports) 
Discover how to generate and customize project documentation containing all necessary information. Handle changes to calculation reports easily with a single mouse click and save time.
14h.00
Advanced Design of Steel Connections with IDEA StatiCa (CBFEM) & SCIA Engineer
Learn more about this breakthrough technology for the design of Steel Connections and how the BIM workflow with SCIA Engineer can offer you significant advantages on timesaving, productivity, and safety of steel structures. 
* By Mr. Theodore Tsirozidis (IDEA StatiCa UK Ltd.)
14h.30
openBIM and BIM solutions with SCIA Engineer, Revit and Tekla 
Optimise your workflow and maximize your efficiency. Utilise the strongest features of each software and collaborate easily with colleagues thanks to a powerful BIM toolbox allowing direct sharing, model conversion, and easy tracking of changes.
* + Practical user story by Mr. Alister Ross (Campbell Reith)
15h.30
Coffee break
15h.45
Current trends in Parametric engineering
Current trends in architecture demand modern and futuristic-looking forms with convoluted geometries. Save time and material by using parametric design and streamline your communication with architects.
* + Practical user story by Mrs. Madalina Taylor (AECOM)
16h.15
Networking