Modern Office Building 'Aviatica' - Prague, Czech Republic
Inspired by history, designed with the latest technology incorporating Open BIM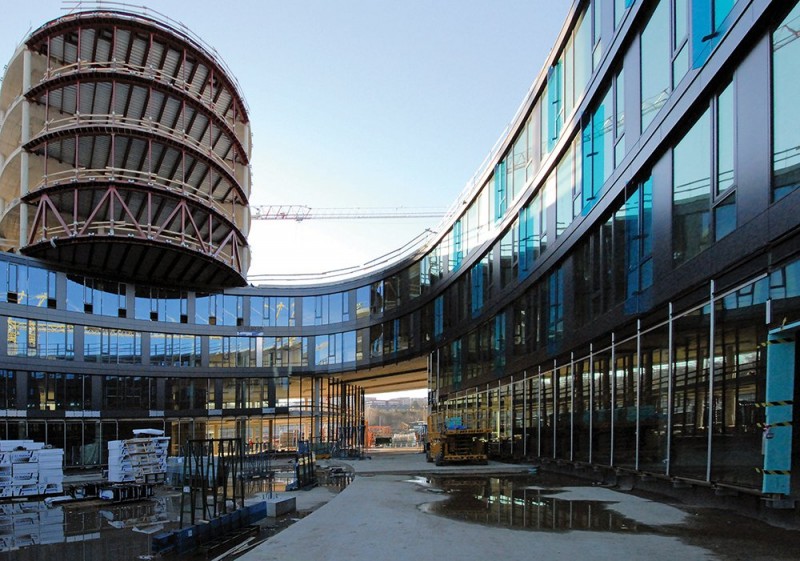 The Aviatica office building, engineered by Building, s.r.o., is located in Prague, the Czech Republic. The building provides 27,000 sqm of pleasant city environment for work, living, shopping and leisure. The top-class design and architecture utilize the latest technology, making the structure comfortable for the users and environmentally friendly.
Built on a site of a former factory that used to produce world-renown airplane engines after the World War II, the design of the Aviatica office building celebrates and carries on the history of its predecessor. 
The challenge of the structural design
The office has an attractive round shape with only the elevator shafts being rectangular. The building has two basements measuring 180 x 84 m and from 4 to 9 stories.
The structural system consists of a main reinforced concrete skeleton, steel trusses and thin concrete slabs on cantilevered roof extensions, load bearing roof grid and a concrete, prestressed truss supporting the entrance arch. The basement next to the metro is vibro-insulated. The foundations were drilled using Large Diameter Piles. 
The solution with applied Open BIM 
For Building, s.r.o., the Aviatica building was the first project where BIM was applied. The investor wanted to have not only an interesting building but also a modern project design using BIM with the advantage of further use for client requirements and building maintenance. 
The 3D model in SCIA Engineer was used for modeling and calculating, and formworks and reinforcements were drawn in Allplan. The general IFC format was used for data transfer. 
The prestressing was implemented with external loads. The vibro-insulation was applied as two slabs connected with a dense field of short columns.
Many structural engineering tasks were concentrated in this one project, from prestressing and vibro-insulation to column transfers, involving the deployment of a lot of individual projects to meet all the requirements and to make the project successful. 
Awards
The Aviatica building has won several prestigious international awards, including the development of 2015 in the Czech Republic and Central and Eastern Europe, as well as the SCIA 2015 User Contest in the "Special BIM Jury Prize" category. 
Owner: Penta Investments s.r.o.
Architect: Cigler Marani Architects a.s.
General Contractor: PSJ a.s.
Engineering Office: Building s.r.o.
Construction Period: 12/2013 - 06/2015