Möbius Towers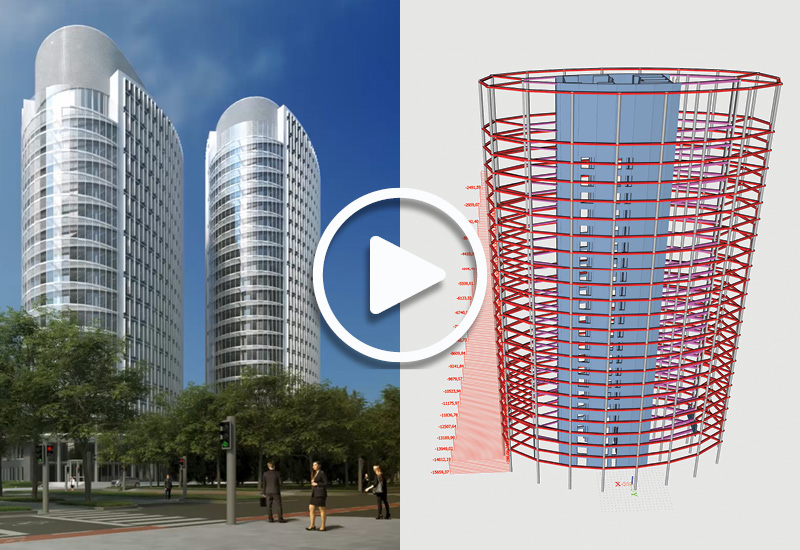 The Möbius towers distinguish themselves from their angular neighbour in the Brussels North District by their completely elliptical shape. The 19 (Tower I) and 23 (Tower II) floors above the ground, measuring 73 and 98 m respectively, offer nearly 62,000 m² of office space. In addition, a 2-level basement provides 300 parking spaces.
The towers are built on the foundation slab of a former construction, which resulted in a limited construction height. Therefore, a flat slab was chosen as a solution, with locally integrated steel beams transferring smaller column loads to the parking grid.
The office floors are made with hollow core slabs and in-situ casts flat slabs. For the frame, prefabricated beams and columns in high strength concrete are used. A 3-level high steel structure on the top provides space for technical rooms.
In this project, SCIA Engineer was used for the analysis of global stability, for the calculation of deformation of the tower taking into account the cracked lintel shear beams, for the check of wind comfort and generally as a design tool providing a reference model for load take down. In a BIM workflow, the derived forces were used for the detailed design. The Revit link made modelling of the steel structure very practical. For modelling of the challenging floor shape, we used varying local surface loads and floor elements with subregions.
This project participated in our SCIA User Contest 2020 - Read the book