Working with SCIA and Koala 
We are pleased to announce our live Koala workshop together with Bouwen met Staal. 
What can you expect?  
Theory about the Grasshopper plug-in Koala that allows you to create parametric SCIA models 
Practical workshop: get to work with your own projects and scenarios 
Dinner to exchange ideas with colleagues 
It will be an interactive workshop, so the maximum capacity is 20 participants. If more people register, we will add a second day. Please indicate in the form on which dates you are available (Tuesday the 10th and/or Wednesday the 11th of May). 
Program 
13u30 - Welcome and coffee
13u30 - Introduction (Rayaan Ajouz) & General presentation (Vladimir Pribramsky) 
14u30 - Workshop 1 - Galapagos and SCIA Engineer 
16u30 - Break with snack 
17u00 - Workshop 2 - "Bring your own projects" 
19u00 - Dinner 
20u00 - End of event   
Practical 
Interesting for structural engineers working with SCIA Engineer who are experienced in Grasshopper and Koala. Level: MBO, HBO en TU 
Auditorium Movares Utrecht 
Daalseplein 100 3511 SX Utrecht 
Tuesday 10 May  
Wednesday 11th of May (if there are more than 20 subscriptions)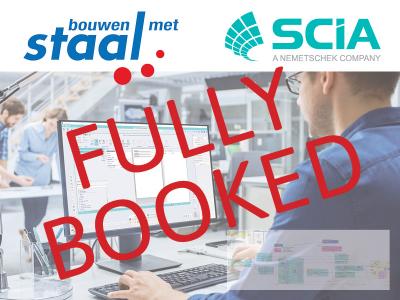 Please specify in the comments your availability on Tuesday 10 and Wednesday 11 May. 
 
Bouwen met Staal processes subscriptions.  
Organised by Vladimir Pribramsky (SCIA) and Rayaan Ajouz (Bouwen met Staal).