3D printing in construction: nice to have or here to stay?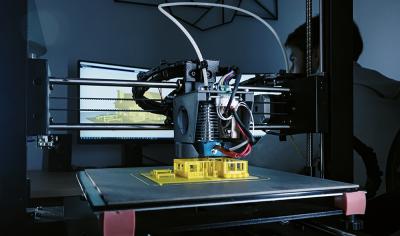 Imagine being able to build a construction in a significantly more efficient, affordable, eco-friendly and quicker way: too good to be true? It might become a reality sooner than you think, because after being extensively used in various industries such as healthcare and aviation, 3D printing is gaining increasing popularity in the AEC industry too. 
3D printing is one of those innovations believed to change the world as we know it. While the technology was previously mainly used for prototyping and one-off manufacturing, it is now evolving into a production technology. Traditionally conservative, the construction industry attributes its most recent innovations to additive manufacturing, driven by the cost savings, sustainability, and flexibility that it offers over conventional methods. It is worth noting that thanks to the industry's experience with computer aided manufacturing and building information modelling (BIM) in particular, the adaptation of 3D printing is facilitated. 
3D printing in construction can be used to create construction components and niche parts, such as interior-decorating features, or to 'print' entire buildings. The techniques used to achieve this can be divided into three categories: 
Extrusion 
Also called contour crafting and by far the most popular technology in construction, it is fairly similar to how FDM (Fused Deposition Modelling) desktop 3D printers work. Paste-type components such as concrete are used as filament and pushed out of a special nozzle to form layers. 
Powder bonding 
This technique is more similar to industrial 3D printing such as SLS (selective laser sintering) or Jet Fusion. The machine spreads a layer of sand-like materials, and then uses a binder polymer to bind the particles together into a physical 3D model.  
Additive welding  
This process is based on arc welding and it also produces metal parts layer by layer, with the layers formed by the melting wire electrode. 
It is clear that 3D printing, in the age of Industry 4.0, marks the beginning of a new era in construction and not accidentally coincides with the sector's search for solutions to long-standing problems. Let's dive deeper into the benefits of additive manufacturing for the industry. 
Safety 
One of the biggest advantages is the fact that construction-related injuries can notably be reduced. 3D printing a building will eventually require very little manpower and robotics can take care of the more dangerous jobs, resulting in an easier and safer life for construction workers. 
Cost-effectiveness 
3D printed construction projects allow people to use the exact amount of materials needed. Moreover, the material can be recycled and used for other projects too. No need to emphasize how this is beneficial for the environment. Next to that, less manpower is needed and the technology is much faster than conventional construction. Put two and two together and see how the process becomes more efficient and thus more cost-effective.  
Quicker construction 
The machines used can operate very fast and don't need regular breaks like people do. Of course, supervision is needed, but the risk of human error decreases crucially. 
Architectural flexibility 
Atypical design structures are no hurdle for 3D printers, which allows designers to offer out-of-the-box ideas to their clients. The sky is the limit! 
While it is easy to become very enthusiastic about these clear benefits, it needs to be added that we're not quite there yet.  
Although the technology advances at an unprecedented speed, 3D printing is still limited to certain materials and in some ways cannot compete with traditional building techniques, especially for finishing processes such as the installation of mechanical, electrical and plumbing (MEP) items and plastering. Another obstacle to consider is the legal and quality framework for 3D printing. It took years for standards for building to be shaped in order to ensure our built environment is safe. Governments will have to adapt to the novelty of 3D printed buildings. In the context of construction defects claims, 3D printers will expose manufacturers and developers to liability and claims that would normally be attributed to human error. 

All in all, the future of 3D printing in construction looks very promising, even though some challenges still need to be addressed before this innovation can become the new norm. Hilde Sevens, CEO of SCIA is firm: "3D printing in construction is no longer a futuristic idea but instead takes an ever more prominent place in our sector. Structures are printed at a fraction of the regular cost and time and they are much more eco-friendly thanks to almost zero material waste. Given that some hurdles still need to be addressed, it is expected to be a gradual process." 
Who knows when you will be living in a 3D-printed house!