Nová verze nemá funkci pro výpočet?
Pokaždé, když je vydána nová verze, je také vytvořen nový modul příslušný dané verzi v našem systému ochrany. Tento modul je nutný k tomu, aby nová verze plně fungovala.
Každá verze našeho programu je chráněna svým vlastním modulem (např. _esa.1200, _esa.1300). Tento modul je potřebný ke spuštění projektů typu "Konstrukce s výpočtem". Pokud není ve Vaší licenci (nebo není zaškrtnutý v nastavení ochrany), budete mít možnost otevírat jen konstrukce bez výpočtu. To znamená, že nebude k dispozici zadání zatížení, podpor ani fuknce výpočtů. Všichni uživatelé se servisní smlouvou obdrží nový modul automaticky, jakmile je nová verze vydaná. Ale musí si svou licenci obnovit, protože modul se objeví jen v našem systému. To se dá provést importováním licence v nastavení ochrany (pro případ lokální ochrany), nebo znovunačtením licence ve SCIA správnci aktivace (pro příprad plovoucí licence). Do té doby budou všechny projekty typu "Konstukce bez výpočtu":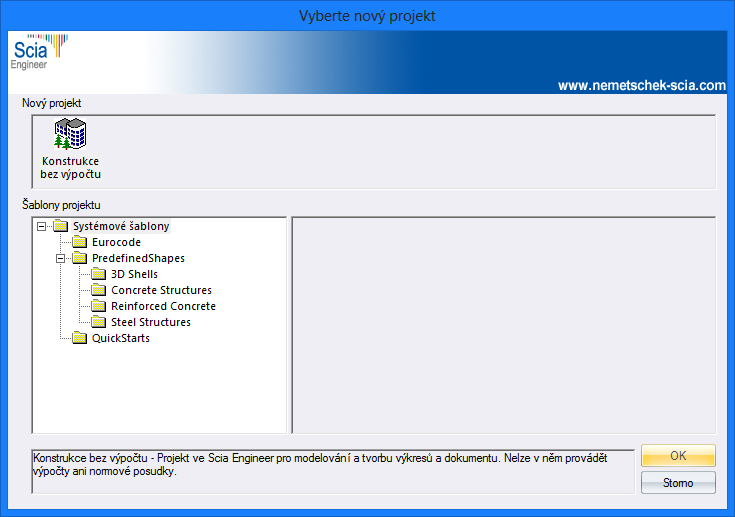 Poznámka: Také starší projekty otevřené v nové verzi budou převedeny na konstrukci bez výpočtu, chybí-li daný modul. Je ovšem možné je jednoduše přeuložit jako konstrukce s výpočtem (bez ztráty dat) jakmile bude licence doplněna.