MS Excel VBA-based tool to import the content of a Staad (.STD) file into SCIA Engineer.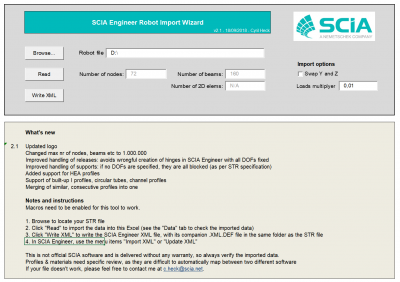 List of imported objects:
Nodes
Beams
Sections (always check them, also the material)
Supports
Hinges
Instructions
Macros need to be enabled for this tool to work.
Browse to locate your STR file
Click "Read" to import the data into this Excel (see the "Data" tab to check the imported data)
Click "Write XML" to write the SCIA EngineerXML file, with its companion .XML.DEF file in the same folder as the STR file
In SCIA Engineer, use Main menu > File > Update from > XML file or Main menu > File > Open from > XML file
Profiles & materials need specific review, as they are difficult to automatically map between two different software
This is not official SCIA software and these community addons are delivered without any warranty or guarantee. So always verify the imported data. If you have any feedback, comments, requests, please feel free to contact us at our e-mail garage@scia.net.