New features of the Engineering Report in SCIA Engineer 15
In this article you can find an overview of some new features in Engineering Report added in SCIA Engineer 15.
For more information about the Engineering Report, you can take a look in our Online Help.
Regeneration
Regeneration from batch analysis
In the dialogue of "Batch analysis" it is possible to select some existing reports that will be regenerated at the end of the analysis. This possibility makes it possible to run the finite element analysis and regeneration of selected reports in a single step. After finishing those tasks, the user can immediately start checking the up-to-date results of analysis and checks in the updated engineering reports.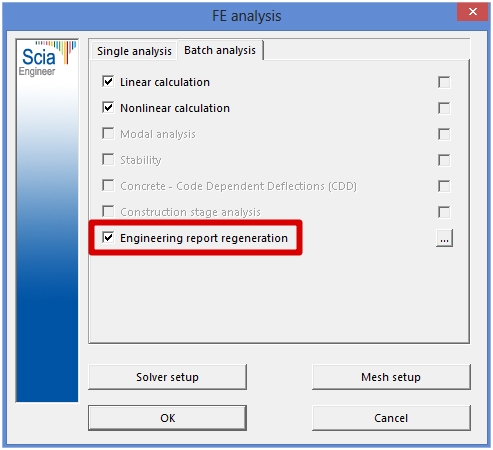 Automatic regeneration of inserted items
It is possible to regenerate report items automatically directly after they are inserted into the report. The automatic regeneration can be switched ON/OFF in the report "Options".
Tables 
Hiding of empty report items
Since version 14 it is possible to create reports using predefined templates. It is quite common that a general report template contains also tables which are not relevant for all projects and remain empty.

Since version 15 it is possible to hide all empty tables from the report using a new check-box in the report properties. When the property is switched ON, all those tables are hidden and are removed also from the table of contents. In the preview they are replaced by a small informative mark. In printings and exported reports, they are removed completely.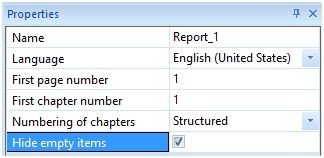 User defined name of table cells and user defined alignment
It is possible to overwrite the name of the table cell and to modify the alignment of values in tables. Those changes can be done in the Table layout editor.
Default alignment and default names:

Alignment to Centre and changed names:

Special fonts for extremes in tables
It is possible to customize the font which is used for maximums and minimums in result tables. New fonts are available in the report style editor.
Pictures
Relative sizes of pictures
It is possible to use a relative definition of picture sizes. Available relative sizes are:
One at page
Two at page
Fit to page width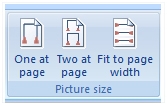 Simplified inserting of pictures
When inserting a picture from SCIA Engineer into Engineering Report, it is possible to read values of the properties from one of four predefined sets. The content of those 4 sets is defined by the user via the Save button.

Formatted text
Definition of font in properties of formatted text
It is possible to use different fonts in different formatted text items. The font name and size can be defined in the properties of the formatted text item.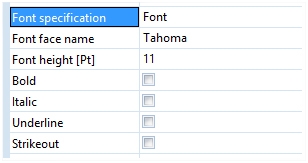 Zoom in formatted text editor
In the formatted text editor it is possible to increase the size of text in the editing area.