Plugging Analysis & Design Into Today's 3D Workflows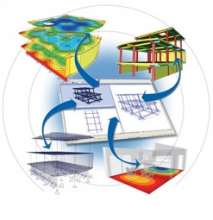 More and more structural and civil engineers are being asked to participate in collaborative, model-based workflows. But plugging into these 3D processes can be difficult with traditional analysis software.

Register for this FREE webinar and learn how SCIA Engineer--a new breed of integrated 3D structural design software--is helping firms:
Connect today's disjointed engineering workflows by linking modeling, analysis, design, reports, and drawings so a change anywhere is reflected everywhere.
Centralize design tasks in one multi-material design environment, and make advanced nonlinear and dynamic analysis not only feasible, but cost effective.
Streamline the communication process and make it easy to keep up with design changes when working iteratively with others.
Leverage models from designers using programs like: AutoCAD, ArchiCAD, Rhino, Revit, SketchUp, Vectorworks, SDS/2, Tekla or even SolidWorks into analysis. And, pass optimized models to fabricators and contractors.
Find out what your firm is missing!
REGISTER NOW!