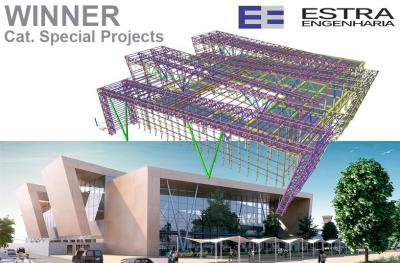 Colombia is facing a continued surge of tourism into the country and Colombia's airports are preparing major expansion plans to deal with it. One of the modernised airports is the Cartagena Rafael Núñez International Airport located in Crespo, part of the Caribbean coastal city of Cartagena De Indias. With over three million passengers annually, Rafael Núñez is Colombia's third largest airport. Due to its appealing location, the city attracts a growing number of tourists and businesses, requiring an expansion of the airport to absorb up to 8.5 million passengers per year.
For this purpose, the international terminal building has been designed that will connect to a new boarding pier, spanning over more than 400 m. The total designed area of this new expansion is 27,000 m2.
 
The project challenges
The engineers faced several challenges:
the complex geometry of the steel roof with 3D and 2D truss girders,
combination of parts made of different materials,
need for several advanced types of analysis.
"SCIA Engineer proved to be very flexible with data input, obtaining more productivity than with any other structural software used in the company."

Estra Engenharia Ltda.
Advanced analyses and hybrid structure with SCIA Engineer
The principal structure of the terminal was modelled directly in SCIA Engineer. It is a single building of more than 5,600 m2. It has a steel roof composed of several spatial and planar trusses made of tubular Hollow Structural Section, forming different inclinations on the roof. Also, the façade was modelled in SCIA Engineer. In terms of analysis and verification, the broad functionality in SCIA Engineer proved to be very useful:
advanced analysis with local non-linear considerations,
second order analysis,
tension-only elements,
physical non-linearity of the concrete material,
advanced dynamic and seismic analysis.
In addition, the steel and concrete code-checks according to AISC and ACI were performed in SCIA Engineer.
"This complex project was modelled directly in SCIA Engineer as a hybrid structure with a span of over 400 meters, including façades and roof. The jury was impressed by the advanced analyses with second order, tension- only elements, physical and geometrical non-linearities, as well as advanced dynamic and seismic calculations, resulting in a fabulous building."

Quote of the Jury
Estra Engenharia's Airport Expansion project is the winner of the SCIA User Contest 2017 – Category 4: Special Projects.
Client information
Estra Engenharia Ltda. is a Brazilian engineering consulting company specialised in structural, foundation and underground projects, delivering innovative solutions for public and private clients worldwide. It was founded in São Paulo in 1981 and since 2011, it is integrated in the international engineering consulting group Cemosa Ingenieria y Control S.A.
In recent years, Estra Engenharia's approach to resolve highly technical projects has been recognised by the Brazilian Structural Engineering Association ABECE thanks to the innovative construction method of a cylindrical underground station, designed by the company's technical director.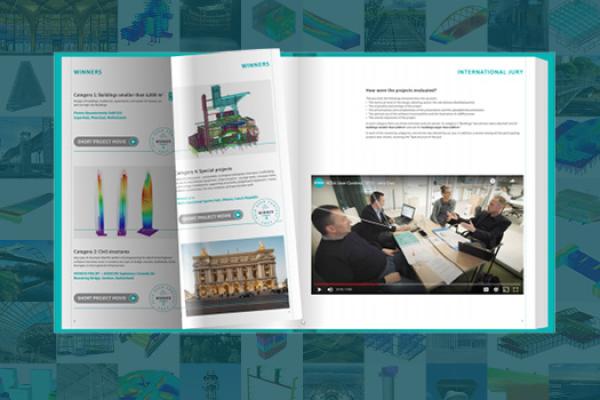 SCIA USER CONTEST
SCIA has been organising user contests for years in which all kinds of projects can participate.
Curious about our last contest?
New: Now stacked with many embedded project and testimonial videos