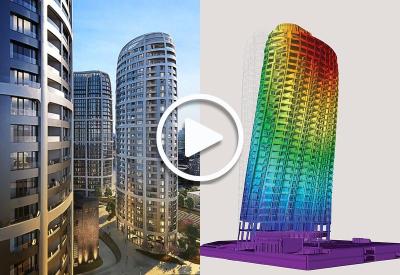 The Sky Park Residence apartment blocks are the first phase of the Sky Park multipurpose complex located close to the centre of Bratislava. There are three identical residential towers with 31 floors and the height of 103.8 m offering 786 apartments.
The buildings have an elliptical floor plan that gradually widens and narrows in two directions from the ground to the roof. They also feature two-storey underground carpark. The total floor area of the premises is over 127,700 m². A new city park with an area of more than 10,000 m² has been proposed around the towers,covering the entire area of the underground floors.
A flat slab of the 1st underground floor below the park is covered with layers of earth 1 to 3.5 m thick. The design of foundations takes into account the interaction of this building with the TEN-T project, whose proposed underground railway tunnel lies 23 to 27 m below the level of the foundation joint.
BIM technology was fully applied during the design process by sharing one common model between the architects and structural engineers.
The deadlines were very tight during the whole design process, but SCIA Engineer allowed us to modify the structure promptly and easily. The Soil-In module was applied for the design and optimization of the piled raft foundation. On-site monitoring of the settlement shows a very good accord with the calculations.
Client information
Prodis plus was established in 1991 by Vladimír Kohút as an office specialized in structural engineering and diagnostics of structures. During the following years it was gradually evolving and extending its field of activities. We have experience with a wide range of projects: residential and office complexes, parking garages, technological and storage facilities, television studios and renovations of cultural monuments and listed buildings.
The company employs 7 highly educated employees and provides the following services:
Complex services related to construction - from feasibility studies to detailed design
Diagnostics and verification of structures
Projects of building renovations The most significant references:
Tatra Centre, Westend Tower, Westend Parking, River Park, Shopping Centre Albero
Renovation of British Embassy, Tower 115, Grand Hotel Kempinski in High Tatras, University Library in Bratislava
Hotel Kempinski Bratislava, Hotel Antares
Chatam Sofer Memorial in Bratislava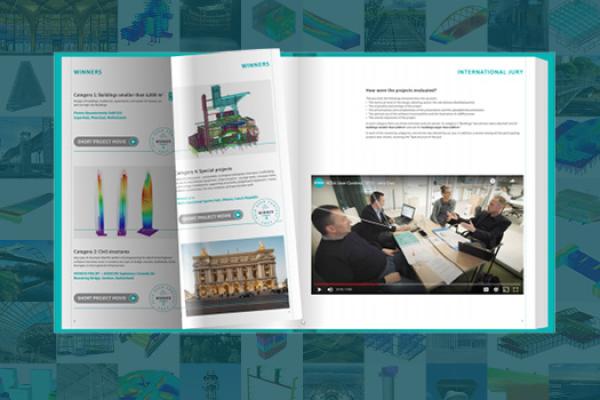 SCIA USER CONTEST
SCIA has been organising user contests for years in which all kinds of projects can participate.
Curious about our last contest?
New: Now stacked with many embedded project and testimonial videos