This project is about one of the largest stages ever toured in any field of entertainment. The structure's central grid is raised 28 metres high, with legs traversing the width of a soccer pitch and a central antenna reaching as high as 51 metres. The steel structure weighs 220 tons, excluding both the 90 tons of steel ballast that travels with each system and the rigging loads. Stageco has produced three identical systems for the band's world tour, each one taking a specialist Stageco team five days to erect and another two days to dismantle, before being packed onto 38 trucks for transportation to the next venue.
Project data
Height main structure: +/- 28 m
Height pylon: +/- 51 m
Width: +/- 60 m
Depth: +/- 44 m
Global capacity stage: 175 ton of sound, light and video equipment
Mass: +/- 310 ton, 38 trailers / set (3 complete identical sets are built)
Name of Project: U2 - 360°
Production Manager: Jake Berry
Architect: Mark Fisher
Technical coordinator: Jeremy Lloyd
Project manager: Dirk Dedecker (Stageco)
Production manager fabrication: Bert Kustermans (Stageco)
Engineer steel structure: Tom Frederickx (Stageco)
Design steel structure: Koen Peeters en Gert Hulsmans (Stageco)
Set production: TAIT (US)
LED video system: Barco and XL video (Belgium)
Location: mobile structure; trucked, shipped and flown around the World (90 cities in 2 years)
Building sequence: 4 days building up, 1 production day, 1 show day, 2 days taking down and loading, 1 or 2 travel days
Description
The story of how the stage made its journey from concept to completion is remarkable. It required the vision of the artists themselves, the inspiration of renowned stage and set designer Mark Fisher and his team at Stufish, the logistical and touring expertise of the show's internationally respected production manager Jake Berry and the innovativeness of Stageco, who adapted heavy civil engineering techniques to the entertainment world in a way that has never been achieved before.
The design all started life as a simple crayon and paper sketch by Mark Fisher inspired by the iconic design of the famous Theme Building restaurant at Los Angeles International Airport (LAX). The concept evolved through discussions between Fisher and Stageco, reflecting the aspirations of U2, who wanted the show to be as inclusive as possible for fans.
In October 2008 U2 "pressed go" on the 360º tour project and Stageco was asked to start work on detailed structural calculations, including a practical modular design which would allow the system to be toured.
Stageco appointed a skilled in-house team with the experience and expertise required to deliver the project, that worked with outside agencies where necessary.
Stageco devised a way of constructing the structure on site which allowed the production to access many more stadia than would have been possible through traditional methods. In the initial phase of the build, the central 80 ton octagon structure which carries the lighting, sound and screens needed to be lifted using three 60 ton cranes. It was suspended on a standard Stageco truss while the four main lifting portals - twin towers positioned either side of each leg - were installed. The use of these portals (made up of the company's existing tower system and often used as stages in their own right) allowed Stageco to bypass two particular issues associated with a more traditional technique. The giant cranes they would otherwise have had to use could not have fitted into most stadia. More seriously, they would not have been able to lift the stage with the precision required as any unexpected shift in the balance of this huge weight would have potentially drastic consequences. The "twin tower" portal system allowed Stageco to gradually raise the Octagon to full height, connecting additional segments of the leg as it lifted.
One vital extra element was required to make the system feasible. To ensure the portals lifted the structure with the exact precision necessary, Stageco engaged a new partner, Madrid-based hydraulics specialists Enerpac, to develop specialist software-driven hydraulics which would allow the lift to be correctly synchronised.
Once the structure was fully in place and secured, the "twin towers" were dismantled and removed leaving in place the 100% bespoke structure which is all the public will ever see. At the end of every show on the U2 tour, Stageco's logistical ingenuity will come back into play for the de-rig, when the towers are re-installed, the legs dismantled and the "octagon" lowered slowly back to the ground in a perfectly synchronised manner.
Client information
Stageco is a widely acclaimed international staging, event engineering and structures innovator. During recent years Stageco has been best known for supplying stunning stages for international tours including The Rolling Stones, U2, etc. and festival stages including V Festival, Rock Werchter Festival (in Stageco's hometown), etc.
Stageco also provides a wide range of innovative indoor and outdoor staging solutions to corporate, sporting and broadcast events, capitalizing on over two decades of expertise gained in the entertainment sector.
We love to be challenged to create powerful event engineering, which is the case when working with the leading event designers. Our application of best practice when it comes to health and safety is pivotal to the success of any event. That is why Stageco designs and fabricates stages that exceed international licensing standards and supplies trained crew to ensure that the best working practices are employed on our structures.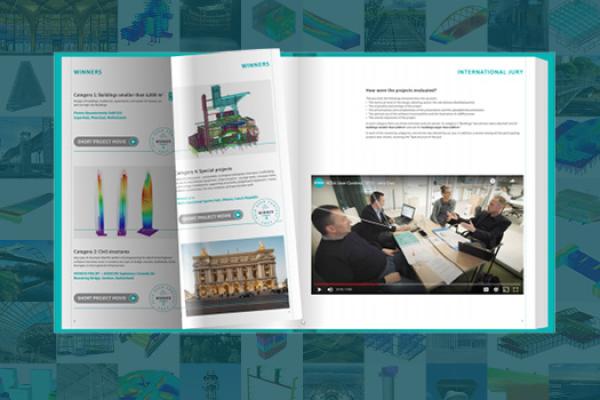 SCIA USER CONTEST
SCIA has been organising user contests for years in which all kinds of projects can participate.
Curious about our last contest?
New: Now stacked with many embedded project and testimonial videos