Innovations in the Allplan 2014 BIM Solution
With Allplan 2014, we are proud to launch today the best Allplan version ever.
New features such as Workgroup functionality for unlimited collaboration possibilities, many additions in the area of 3D reinforcement or intuitive Handles for more intuitive working methods, … all these reflect our goal: to create an Allplan version that will inspire you!
Support of IFC reinforcement
To improve transfer of reinforcement data, the certified IFC interface has been enhanced so that you can now also transfer reinforcement via this open standard format in Allplan 2014, in addition to 3D objects and components. This becomes essential when Allplan is interacting with structural analysis software such as Scia Engineer, in the collision check with external tools (e.g. Solibri Model Viewer) or upon transfer of data to tendering software in order to calculate detailed construction costs based on actually-planned reinforcement.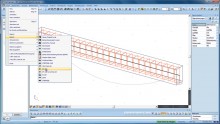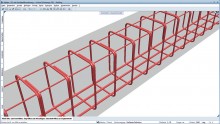 IFC rebars exported from Scia Engineer                                    IFC rebars imported into Allplan Engineering
Modelling freedom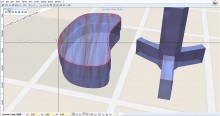 The goal of the optimizations made in the 3D modeller is to make your working methods even quicker and more intuitive. The new extrude function now automatically recognizes even angled surfaces. You can simply place or sketch new outlines and then perform a perpendicular extrusion in the next step. This does away with time-consuming intermediate steps such as rotating the crosshairs or creating construction lines.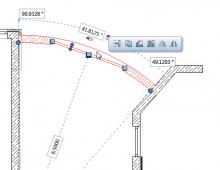 Direct object manipulation (handles)
The revised Handles functionality allows for another time-saving workflow. With a few clicks, you can make your entries right next to the selected object. The effects of your changes are visible immediately and can also be corrected quickly, if necessary. Functions are displayed on a context-specific basis. This results in a user interface that is broadly self explanato¬ry and makes it easy to learn just by trying out different functions.
Internet-based collaboration
Engineering offices need to complete construction projects in a fast-moving and networked working environment. To complete complex projects within a short design period, several people need to be able to access the project simultaneously and sometimes from different locations. Allplan 2014 therefore enables the Internet-based collaboration.

With the enhanced Workgroup functionality, several users can access the same Allplan project online – as efficiently as if they were all sitting in the same office. They can even access the data from outside the company network. This is useful, for example, if your company has several office locations, if you are working on a project together with other companies, working with external employees or working from a home office on your own computer. For meetings with clients, you always have the latest project status to hand and can add small changes directly.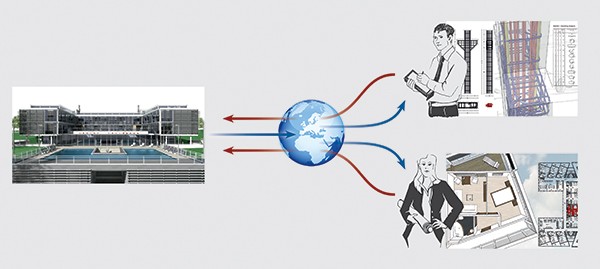 And much more !
Want to learn more about the new possibilities offered by Allplan 2014?
Visit the Allplan website: www.nemetschek-allplan.com