A new logo and fresh identity for SCIA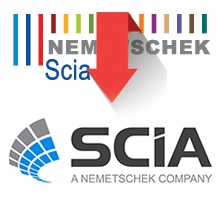 Last July we presented our new corporate website at www.scia.net and today SCIA is very excited to introduce its new and exciting corporate logo!
The Nemetschek Group globally faces the market with strong, independent brands, such as SCIA, Allplan, Vectorworks, Graphisoft, Bluebeam and Maxon. As an individual brand, SCIA has been sharpening its position and identity over the past year, totally focussing towards the structural engineering market and thereby moving its identity to the forefront. As a consequence, our company is also renamed from 'Nemetschek Scia' to a shorter 'SCIA'.
Our new logo shows a dynamic and contemporary look, one that visually captures our values of being entrepreneurial, committed, inventive and reliable towards our clients and business partners. The use of upper case letters underlines the solidity and strength of the company with its 40 years history and continuous growth. Blue is kept as our company colour as it has been since the start of the century.
Finally, the supporting "A NEMETSCHEK COMPANY" tagline is the common bond between all the holding's brands, bringing a strong recognition value worldwide.
We sincerely hope that you like our new logo and invite you to tell us how much via our social media channels.