Scia Engineer 14. Expanding Design.
We are proud to announce the release of Scia Engineer 14 – "Expanding Design", the latest version of our flagship structural analysis and design software. The new release delivers capabilities to move beyond the traditional limits of 3D structural analysis software by integrating all the design workflows, even custom ones.
"Structural engineers often have to write their own checks to solve daily problem. Results from structural analysis, like internal forces, are copied manually which is both inefficient and error-prone." says Geert Adriaenssens, Product Manager, Nemetschek Scia. "With Scia Engineer 14, engineers can finally integrate all their external checks into one workflow, as well as customize their FEA software to support all the checks their firm may need."
Open Design with Design Forms 
With the Scia Design Forms scripting language, write your own calculations that seamlessly link to Scia Engineer. This allows you to consolidate the number of design programs you have to support and maintain, and to expand the scope of Scia Engineer beyond what is shipped out of the box.
To centralize all the reporting tasks, the brief or detailed Design Form output can be displayed in Scia Engineer's Engineer Report.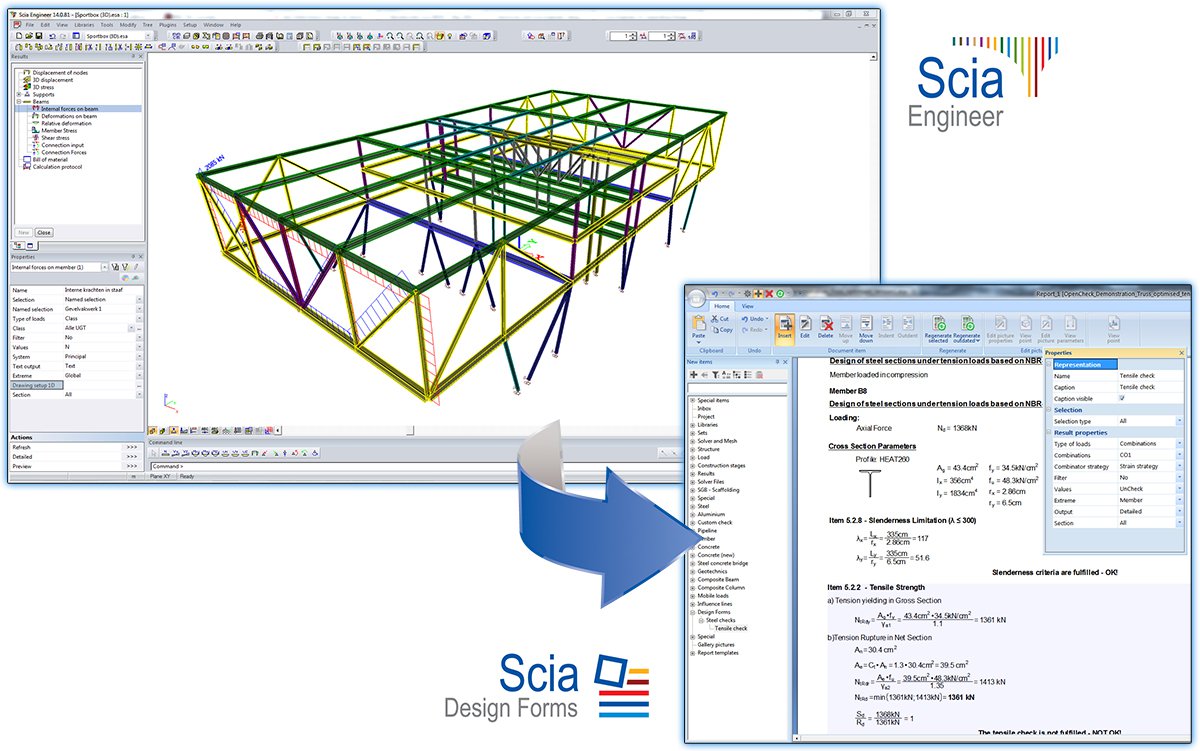 Linking a detailed output in Design Form to the 3D model
Core Analysis improvements
The fruit of a research project with Prof. Patzak from the Department of Mechanics of the Civil Engineering Faculty, Technical University of Prague (Czech Republic) is a breakthrough innovation: Faster, more accurate meshing thanks to automatic, smart mesh refinements based on error estimators.
Additionally, a new, detailed 3D display of displacements and stresses on members allows the engineer to understand better than ever before the behaviour of the structure under the applied loading.
Also, the new singularity check displays the shape of the rigid body translation or rotation that can occur when the analyzed model contains a mechanism, enabling the user to quickly identify the source of the singularity and to correct his model accordingly.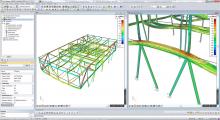 Normal stresses plotted on the deformed shape of a steel structure
Improved Usability for Day-to-Day
New template technology means faster setup of Engineering Reports

Find answers quickly. Improved Context sensitive and localized online help

New "results table" window for more comfortable handling of numerical results

Support for load combinations to IBC 2012 and ASCE 7-10

Compatibility with Allplan 2014.1, 64bit Tekla Structures, Revit 2015

And that's only the beginning...
Scia Engineer 14 will be released on May 22, 2014.
For more information about Scia Engineer 14, please visit: http://14.scia-engineer.com.
For a live demonstration of Scia Engineer 14, please register for the upcoming "Expanding Design" webinar on May 16, 2014.
Visit the Scia Engineer 14 release website Register for the "Expanding Design" webinar