SCIA Engineer webinars overview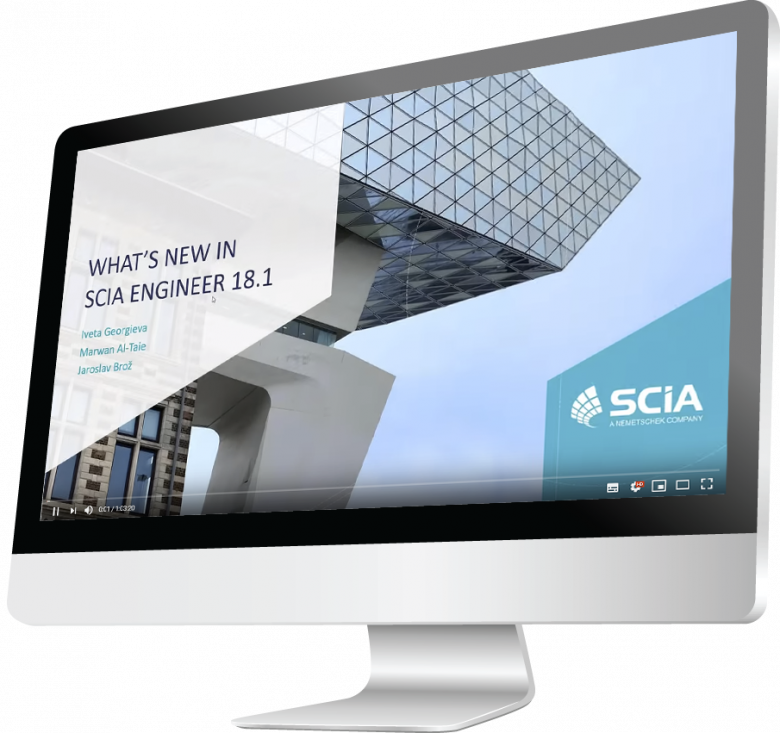 Over 2000 structural engineers attended our webinars in 2018 to learn about new features in SCIA Engineer, to deepen their knowledge of the software and to increase their confidence in less frequently used capabilities of our structural engineering solution. Should you have missed any of these interesting presentations, in this overview you can choose a title that will help you with your projects.
ADVANCED ANALYSIS IN SCIA ENGINEER: GEOMETRICAL AND PHYSICAL NON-LINEARITY, SPECIAL ELEMENT TYPES
Respecting the non-linear behaviour of civil engineering structures in their analysis has become a must for a safe and economical design. Watch this webinar to have an in-depth view of the vast range of non-linear capabilities of SCIA Engineer, such as:
differences between calculation methods (Newton-Raphson, Picard, etc.), 
what is behind the first, second and third order analysis,
physical non-linearity models,
member and support non-linearity,
etc.
Read more and watch this webinar ...
DESIGN OF COMPOSITE FLOORS IN SCIA ENGINEER 18 (EN 1994)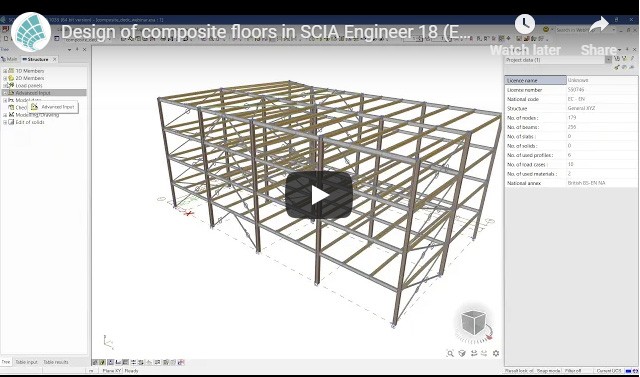 Steel-concrete composite floors are frequently used in a wide variety of structures. SCIA Engineer 18 presents a robust solution for modelling, analysis and design of composite beam floor systems according to EN 1994-1-1:
AutoDesign of studs, cross sections and camber in one go,
support of large openings in the steel beams,
detailed and transparent reporting,
and much more...
Read more and watch this webinar ... 
ENGINEERING REPORT & PICTURE GALLERY
Production of a comprehensive and clear documentation for a structural engineering project represents often a time demanding task. Watch this webinar and learn how SCIA Engineer's built-in Engineering Report and Picture Gallery can significantly speed up this project phase.
Read more and watch this webinar ...
SCIA Engineer 18 series
SCIA ENGINEER 18: STREAMLINED USABILITY, ADVANCED MATERIAL DESIGN AND EXTENDED BIM LINKS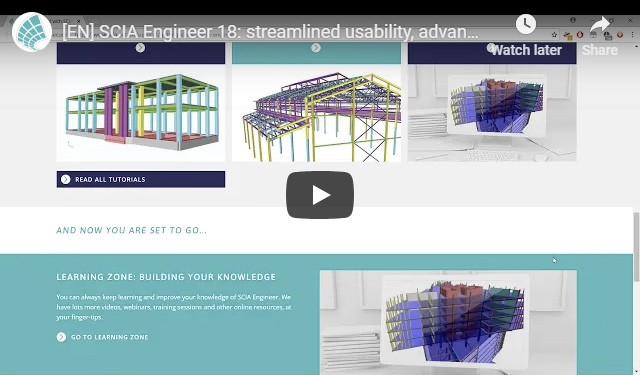 SCIA Engineer 18 moved the software to the next level in terms of usability, material design and interoperability with streamlined basic operations and more automatic workflows, improved integration into BIM workflows via upgraded Revit and Tekla links and new design capabilities for advanced materials and construction systems. In this webinar you get a brief overview of all the major improvements.
Read more and watch this webinar ... 
BIM IN PRACTICE: PRACTICAL DEMONSTRATION OF ENHANCED AND EXTENDED INTERFACES WITH TEKLA STRUCTURES AND REVIT.
The upgraded bi-directional Revit and Tekla Structures links presented in SCIA Engineer 18 help bridge the gap between design and detailing of concrete as well as steel structures:
support for complex beam shapes in the Tekla Structures link,
export of end reactions to support the detailing of connections in Tekla Structures,
export of reinforcement to Revit for 1D,
support of storeys in the Revit link,
and much more...
Read more and watch this webinar ...
SCIA ENGINEER 18 - FIBRE REINFORCED CONCRETE
Today, about 1 in 3 square meters of industrial floors in Europe are designed with steel fibre reinforced concrete and the demand to use the material will continue to rise. The material will be included in Eurocode 2020. 
In the webinar you will explore how you can analyse and design steel fibre reinforced concrete members in SCIA Engineer and what the advantages are.
Read more and watch this webinar ...
DISCOVER WHAT'S NEW IN SCIA ENGINEER 18.1 - ENHANCEMENTS IN CONCRETE, STEEL, COMPOSITE DESIGN, IFC4 ... AND MUCH MORE
SCIA Engineer 18.1 followed in the footsteps of version 18 and focused primarily on extending some of the previously introduced features and capabilities. You will experience new improvements and extensions in many programme parts: from faster project opening, to more detailed calculation reports, wider design capabilities and a new exchange format.
Read more and watch this webinar ... 
US series
DESIGNING COMPOSITE SLABS WITH SCIA ENGINEER (AISC code)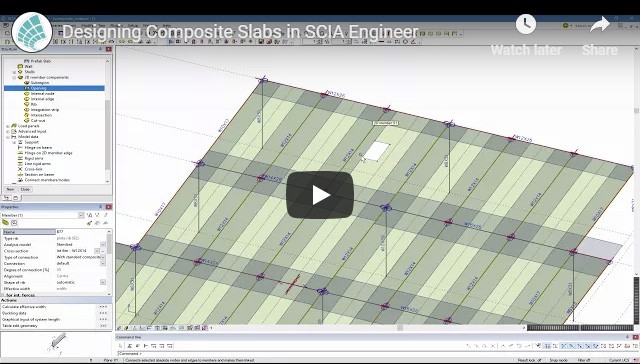 Composite beam floor systems dominate the steel multi-story building sector. Engineering software must make it easy for users to model, analyse and design composite floor systems while also being able to transfer the data to documentation software like Autodesk Revit. With SCIA Engineer, the entire process is now more efficient and accurate than ever.
Read more and watch this webinar ... 
STEEL TANK DESIGN WITH SCIA ENGINEER (AISC / AISI code)  
Cylindrical tanks or bins are utilized in a wide range of industries to store/hold bulk solid material and liquid. The analysis and design of these cylindrical tanks requires engineers to evaluate complex loading conditions including wind, seismic, product and hydro-static. In addition, advanced analysis including modal, 2nd order and stability is required to understand the true failure modes. SCIA Engineer covers all these requirements: to model the complex geometry, load the structure, complete the analysis and finalize the design.