SCIA supports structural engineering students with free software versions
For a few years SCIA has been allowing every enrolled structural engineering student, postgraduate or professor to download a completely free copy of SCIA Engineer and SCIA Design Forms. Today, thousands of happy students are using a SCIA Engineer academic edition. This software version is not limited in any way: Not only do students get all necessary design and analysis tools, but also the full power to lift any 3D design to a new level.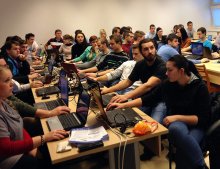 These free software tools enable all students to work smart, save time, and develop all needed skills in order to take the next step in building their professional career. Also professors are able to use reliable and transparent structural analysis software that links into a BIM workflow.
As long as you are enrolled at an academic institute you may use these licenses during a period of one year, meaning you can renew every academic year at no costs. Registration is quick and easy. In no time you can have your free academic software up and running. Dear students, get started and apply for your free copy today!
Get your Free Student License here...
More info on the Scia Student Version 
Is there a network license available for a classroom or a lab?
A SCIA Engineer Classroom License is the solution for schools that wish to install this academic software on several computers in a classroom or laboratory.
If you are interested in having the latest SCIA software in your teaching institute, please contact [email protected] for more information.
New: Thesis Graduation Projects from Students and Postgraduates
We recently started a new section on our SCIA Campus website where students - having written their thesis for getting a degree or postgraduate diploma and having used SCIA software - can share their thesis and work with others. If interested in this website and proud of your work, send us an email at [email protected] and we will send you the instructions on how to proceed.