SCIA Engineer 19.1 - Design Accelerated!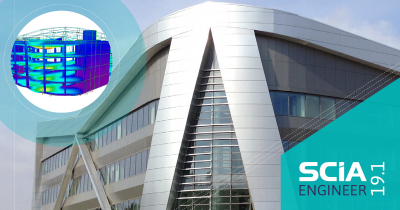 SCIA Engineer 19.1 follows in the steps of this year's major version, SCIA Engineer 19, and brings enhancements and new functionalities in terms of usability, design of multi-storey buildings, checks of steel & aluminium structures and interoperability. This will save time and increase productivity while working on both challenging projects as well as day-to-day tasks.
 
SCIA Engineer 19.1 extends numerous capabilities introduced in version 19 and increases the overall efficiency of structural engineers' work namely by:
fast and easy detection of critical places in concrete structures thanks to the optimised workflow with simultaneous design and check for both ultimate and serviceability limit states,
more precise results of punching shear checks for foundation slabs and column heads,
accurate definition of Soil-In parameters in seismic analysis,
design of aluminium structures updated to the latest EN 1999-1-1 + A1 + A2: 2013,
easier verification of the model by optimised singularity checks for non-linear analysis,
more control over the integration member and its export to XML,
direct access to the Analytical Data Model used at the background of the OpenAPI,
new extensions in Tekla Structures and Revit interfaces,
and more...