Numerically supported buckling check with global LA and LBA calculation according EN 1993-1-6, Chapter 8.6.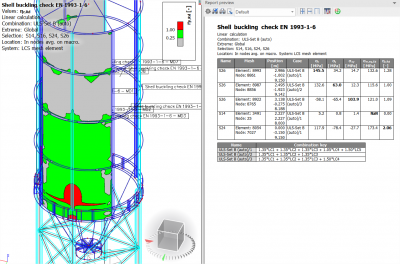 The design bucking resistance in this concept should be determined with the aid of the load increase factor rRd, referred to the design values FEd of the load combination.
The plastic reference resistance rRpl is calculated conservatively by using a linear analysis (LA).
The ideal elastic buckling resistance rRcr should be determined from an eigenvalue analysis (LBA), based on the linearly calculated elastic stress state in the geometrically perfect shell (LA) with the design values of the relevant load combination. The lowest Eigenvalue should be considered as the ideal elastic buckling resistance rRcr.
In addition, the relevant manufacturing tolerance quality class should be considered.
For input there are necessary following parameters:
Elastic shell buckling factor (calculated as result of stability analysis)
Parameter by manufacturing quality
Shell curvature radius
Download attached zip file. Unpack it and place CLS and CLC files in your Opencheck folder and enable them in SCIA Engineer by adding them via "Check manager" to the list of "Integrated Design Forms". After that, Shell buckling check is available for use under "Other checks".

How to link Shell buckling check in SCIA Engineer:
How to work with Shell buckling check in SCIA Engineer:
Note: the tool is currently only available in German, English and Czech language.
This is not official SCIA software and these community addons are delivered without any warranty or guarantee. So always verify the imported data. If you have any feedback, comments, requests, please feel free to contact us at our e-mail garage@scia.net.