What can cause the error message "No nodes found in project data"?
If the following error message appears when starting a calculation ...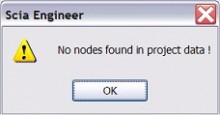 ... it means that the solver does not recognize any nodes to take into account for the calculation.
In case the SCIA Engineer project has been exported via the File menu > Export > New project (.esa), you might get this message when starting a calculation.
The solution is then to go to the Main menu > Cleaner > Results related items, and select there the option All.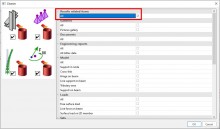 After using this Cleaner tool, the calculation will start without the error message.