How to import a project from a dxf/dwg file (Autocad)?
The procedure to import a dxf/dwg file into SCIA Engineer is as follows:
Create a new esa project.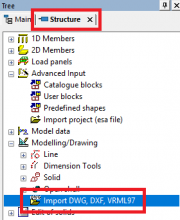 Figure 1: Import DWG/DXF file.
Browse for the file and confirm.
The import window is displayed, adapt the parameters then click on Import all.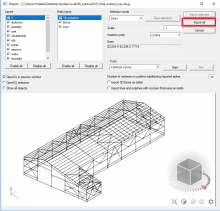 Figure 2: Import window.
Choose the insertion point graphically or via the command line.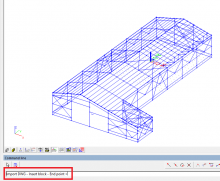 Figure 3: Insertion point.
Use Esc on the keyboard for finishing importing.
Tip and trick
Before inputting drawing into Scia Engineer, you can set rounding of the decimal places accuracy in Autocad. It is important because SCIA importing the drawing 1:1 without some modification and the inaccuracies can cause the problem during connecting construction and creating a mesh of the finite elements.
The setting of the accuracy on mm should be all right and the calculation of finite elements in SCIA Engineer should run without problem.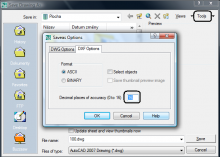 Figure 4: Accuracy setting in Autocad.