Warning W30 (LTB Dutch Annex)
If the Dutch National Annex is chosen, it is possible that the warning W30 is given when performing a ULS steel check (according to EC-EN 1993).
The description is 'Not all conditions of the Dutch NEN-EN NA (Art. NB.NB.1) are fulfilled, therefore the standard EC-EN approach is used.'
According to the Dutch National Annex (NEN) there is a modified lateral torsional buckling check, which can only be executed under certain conditions: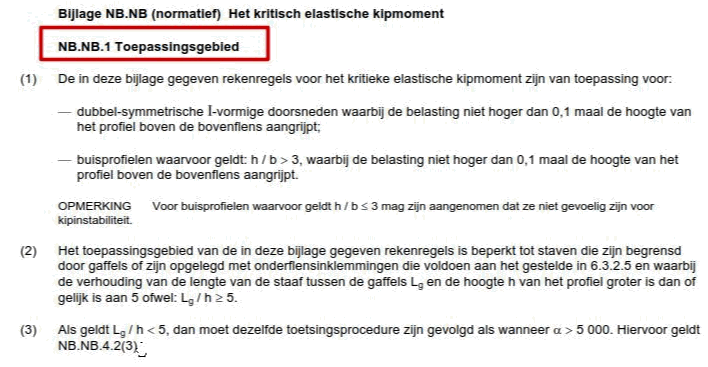 If a condition is not fulfilled, this Dutch Annex cannot be performed and the standard Eurocode method (EC-EN) is used.
This warning is purely informative for the user. The message doesn't mean that the members are not sufficient enough, the software is only mentioning that the standard Eurocode method is followed instead of the method according to the Dutch National Annex.
The message could appear if you use a profile that doesn't belong to the double-symmetric I-shaped cross-sections or to the tube profiles.
The message could also appear when the condition according to h/b and/or Lg/h is not fulfilled.