SCIA Engineer: Table Results
Table Results is a new functionality that allows the user to view results in tabulated form including FEM results for nodes, 1D and 2D members, code-checks etc.
Similarly to Table Input of SCIA Engineer, Table Results can be opened via the Toolbars menu.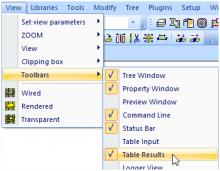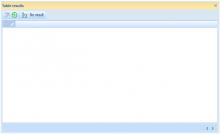 The result type that will be displayed in the table is selected via the Result service, or via services Steel or Concrete. Once the calculation is performed and results are available, the Table Results may be refreshed any time to reflect the adjusted load type and load properties from the Property window.
Tools
Sorting
The result tables may be sorted by clicking on the column header. Depending on the content of the cells, a column may be sorted alphabetically or numerically, in ascending or descending order.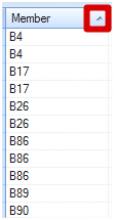 Clipboard link
Values can be easily copied to the clipboard using the CTRL+C shortcut. All cells can be selected by clicking the top left cell (the empty corner cell).
Column selector
The Column selector can be used to display hidden columns and can be opened by a shortcut or by a right click on the column header.
 

A new column can be added by dragging and dropping in between two column headers.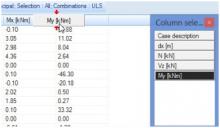 The visible columns may be hidden using the context menu of the appropriate column. Dragging a column header anywhere to the grid also hides it.
Filtering
Filter fields are available for every column that is currently visible. When the user types a string into the filter field of a column, all rows not containing that string in the specified column are filtered out. Filters for several columns can be used simultaneously to introduce more complex criteria.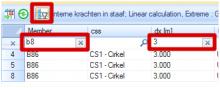 Remarks:
The Table Results functionality is part of the Productivity toolbox (module esa.06) and is available in SCIA Engineer since version 14.
The table shows a warning if the selected result is not currently supported.