Automated concrete design in SCIA Engineer 19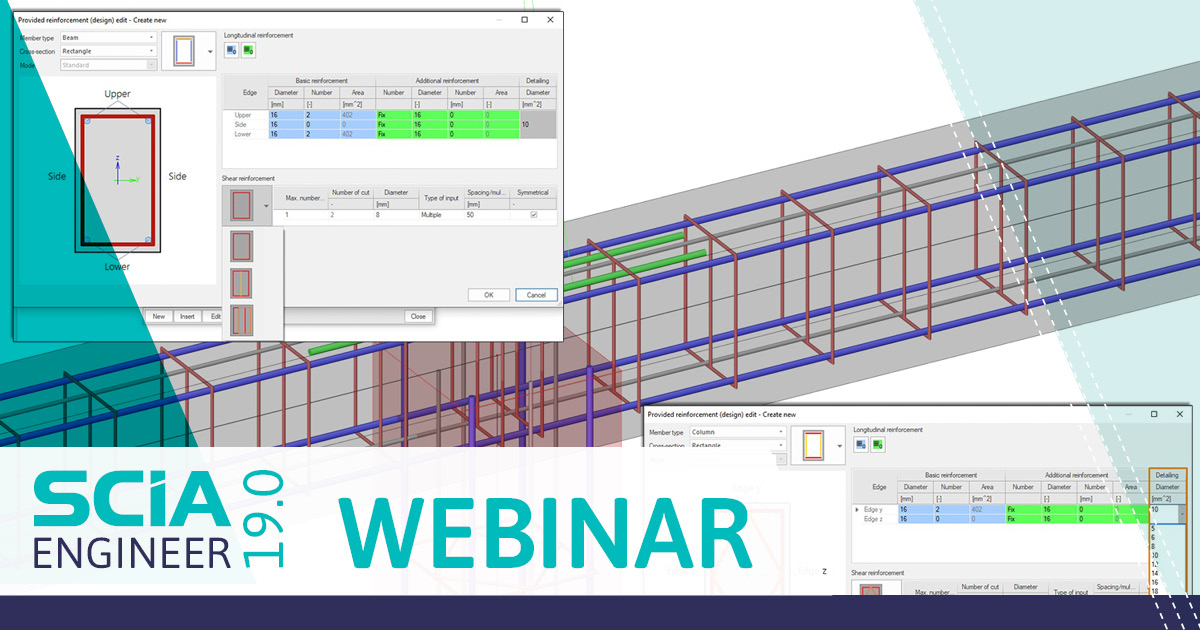 Deliver accurate, economical and clearly documented design with minimum effort thanks to an automated design of real reinforcement bars, stirrup zones, new reinforcement templates and many other new options.
The existing solution for the design of concrete columns, beams, slabs, walls and shells featuring an efficient, logical and time-saving workflow has been further extended by a whole set of new functions, options and capabilities. Watch our webinar and explore the new features:
Automatic conversion of calculated reinforcement areas into real bars
Use of real reinforcement bars in all ULS/SLS checks and in the section check
Design of real bars and reinforcement meshes in 2D members
Built-in templates for stirrup shapes for different cross-section types
Practical distribution of stirrups along the span using stirrup-zones
New reinforcement template for columns with corners-only bars
Uniform distribution of longitudinal reinforcement along the length of the column
Export of reinforcement to IFC, XML, ASF
and much more...
Stay also tuned for the two upcoming webinars that will present other new functionalities in detail:
design of composite and steel structures
parametric design using a brand new OpenAPI
Presenter

Marwan Al-Taie studied civil engineering at the University of Technology UOT in Baghdad. He has more than 15 years of experience as a concrete designer, consultant engineer, and projects manager. He worked in Iraq, Dubai, Oman, and Belgium. He joined the SCIA nv team in Belgium in 2015 where he works as a product manager responsible for the concrete design in SCIA Engineer.
WATCH ON YOUTUBE