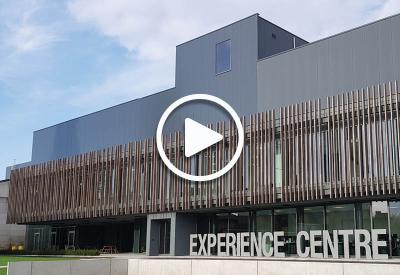 Constructing a brand-new multifunctional technology visitors centre for one of the world's leading companies in weaving technology does not come without a challenge. The building consists of three different subregions: an 85 m long showroom (for demonstrating the state of the art weaving machines to its customers) with a span of 80 m provided by two trusses of 40 m and centre columns that incorporate a walkway throughout the factory, offering a magnificent view of the site. Furthermore, a visitors centre that allows the clients to get to know the products and possibilities, with a skybox on top of the roof as the absolute eyecatcher. On the front, new offices were constructed for the staff, where the cantilevered side challenged us in terms of stability.
Each of the three subregions had its own difficulties: from mounting large truss spans in the showroom over an existing smaller structure to harmonizing the structurally necessary beams and columns with the large amount of technology and piping in the visitors centre, up to and including the necessary stability solutions for the cantilevered office spaces. Throughout the whole project, the aspiration for an architectural masterpiece could never be overlooked.
"A structure with specific complexities due to three substructures."
Because of the complexity and size of the building, combined with a strict timing, we used all smart time-saving functionalities of SCIA Engineer: load panels, 3D wind generator according to Eurocode (correctly taking into account the cantilevered part of the offices in the front), import of dwg-layers for modelling of different floors in the visitors centre, export of IFC-models for BIM purposes: internal checks, exchange with third parties (to design prefabricated concrete elements, aluminium and glass façades), clash checks with piping and techniques, etc.
Client information
Snoeck Gebrs NV is specialized in the production and assembly of steel constructions for industrial buildings and for the agricultural sector. The state-of-the-art production workshop is certified in accordance with EN 1090-2 up to and including execution class III. The company also offers the expertise of its own engineering and drawing office.
Snoeck Gebrs NV - part of the Willy Naessens Group - also has its own foundation teams and can anticipate on a wide range of prefabricated concrete elements, different types of wall cladding and roof finishing, being able to provide a complete package for its customers.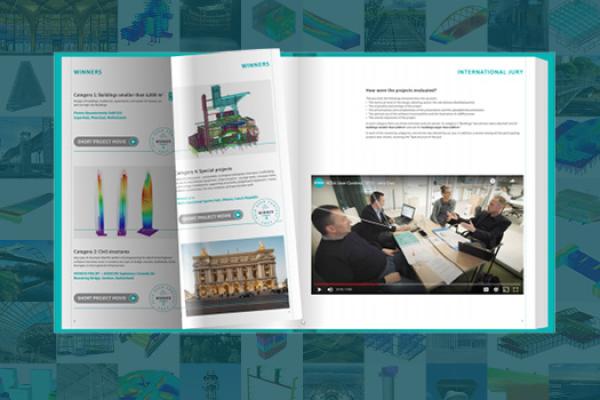 SCIA USER CONTEST
SCIA has been organising user contests for years in which all kinds of projects can participate.
Curious about our last contest?
New: Now stacked with many embedded project and testimonial videos