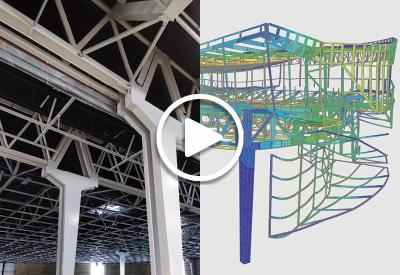 The new "Pavillon 6" in the Porte-De-Versailles exposition site in Paris consists of an exposition area of 15,000 m², several conference rooms, 2 restaurants and a complex canopy which will support the "Journaux lumineux" designed by Jean Nouvel Architects. The green roof will contain 14,000 m² eatable plants, an agricultural greenhouse and some vegetable garden squares. Three basement parking levels will contain 1,522 parking spots.
As always, the deadline for the analysis and calculation was very tight, even more so since we had to modify the basic design into a realistic and executable stability model. The hinged connections were a true challenge and have been executed as gigantic pin-in-hole details for the connection of trusses with the welded-plate columns. The supporting concrete structure has joints for dilatation, while the above steel structure doesn't. The steel structure has therefore been modeled with supports including forced deformations.
SCIA Engineer made it possible to model the hinged pin-in-hole connections between trusses and welded-plate columns as plastic plate models. This resulted in a realistic, yet optimal calculation model.
Due to the size of the calculation model, a very powerful solver was needed. Again, SCIA Engineer appeared to be the right choice!
For the 'Passerelle Est' part of this project, SCIA Engineer made it possible tomake a dynamic analysis in accordance with the correct standards.
Client information
Stabilogics has an experience of 20 years in executing stability studies. We have an extensive knowledge in national and international engineering standards.
Our major asset is creative joined-up thinking in the designing and execution phase which results in a logic and economic structure, without neglecting the architectural demands. We pay attention to execution details and specificities to minimize on site erection time.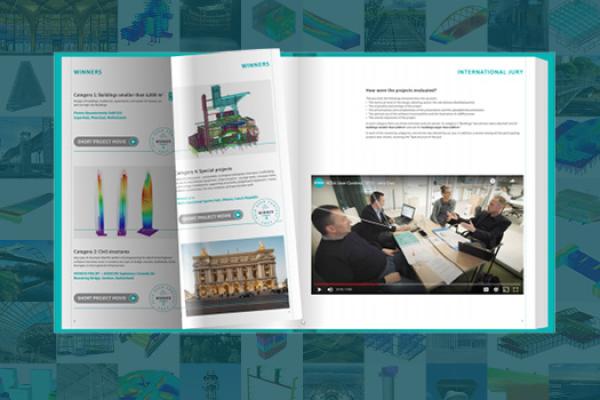 SCIA USER CONTEST
SCIA has been organising user contests for years in which all kinds of projects can participate.
Curious about our last contest?
New: Now stacked with many embedded project and testimonial videos