The National Music Centre is planned around the historical King Edward Hotel at 4th Street SE and 9th Avenue in Calgary. The 1905 hotel was known as a "hotbed of blues music in Canada" in the years before it closed in 2004. Slated to open in 2014, the $132-million, 135,000-square foot new music center project will be built around the hotel using additions that include a two-story bridge spanning across 4th Street SE. The bridge will be used as a performing space and serve as a visual gateway into a revitalized East Village, which the city wants to develop as a major cultural and music district.
The facilities will include a radio broadcast studio, recording studios, a 300-seat performance space and 23,000 square feet of exhibition galleries that will show collections such as the Rolling Stones Mobile Studio, the Canadian Music Hall of Fame Collection and the Canadian Country Museum Hall of Fame Collection.
A Complicated Design
In this project the architectural design was very freeform. The building is a very modern design and fairly complicated with many pods, which are curved formed concrete structures. Walls with double and single curvature are used. The walls curved in more than one direction and there are many and numerous smaller vessels that "lean" on each other, meaning that the walls often came down to a point or arch of concrete, as well as walls that didn't' come completely down to the ground.  Using traditional structural analysis and design, KPFF Consulting Engineers in Portland, the structural engineering firm,  found it was very difficult to input structure, and the Finite Element Meshing (FEM) did not work.
The scale of this project, the complexity of the architecture, and the frequent, and often dramatic, changes in the project's design, would have made this project difficult to complete using traditional engineering workflows and technology.
Allied Works Architecture, Portland, a U.S. firm that won an architectural competition for the project two years ago, worked in collaboration with GEC Architecture of Calgary on the project. The unique design of the building celebrates the Western Canadian landscape, with the canyons of the Rocky Mountains as well as the vast open spaces of the prairies. They worked with SCIA, using their collaborative 3D analysis software for workflow models to provide accurate 3D analysis and modeling of the structure as it is being built. The product, SCIA Engineer, is a graphical software system for design, calculations and code-checking of structures.
3D Structural Analysis/Design Software
KPFF Consulting Engineers decided on SCIA Engineer, a new breed of 3D structural analysis and design software, to streamline the design of the National Music Centre project. With SCIA Engineer, KPFF Consulting Engineers was able to easily import and reuse the architectural model from Allied Works Architecture and derive an accurate analysis model, test and validate different design ideas and easily communicate back their changes.
"Most other software we were using had trouble analyzing this. The others were fairly slow and painful to use," said Andrea Hektor, Project Engineer, KPFF Consulting Engineers. "This was quick. The design was progressing quickly and for this project we needed the ability to update our design rapidly. We couldn't wait a whole day to get a design into the system, much less update it." Hoffmann's work involved doing most of the actual design work and trying to determine structurally how the building would work.
The scale of this project, the complexity of the architecture, and the frequent, and often dramatic, changes in the Music Centre's design, would have made this project difficult to complete using traditional engineering workflows and software. Using SCIA Engineer's collaborative 3D model-based technology, the design time of the National Music Centre was shortened.
SCIA Engineer allows for the design of a structure in 1D, 2D, 3D and 4D. It has smooth interoperability with data from other programs. And its BIM solution handles both the architectural data and the analytical data for calculations and design. The Finite Element Method operates behind the scene, saving the engineer time.
The benefits gained from using SCIA Engineer's advanced analysis features, such as the mode shapes and modal masses are that it could analyze a structure as complex as the National Music Centre, create a good, finite element mesh automatically, and show visually where there were high stress areas. This is an increase in accuracy and quality control from other systems.
"SCIA Engineer was incredibly useful on the Calgary Music Centre project. We were having a hard time getting SAP to accurately mesh the building walls by themselves, and effectively caused the program to crash every time we tried to put the walls and slabs together in a model.  But for a building with geometry as complicated as what we were working on, we needed to be able to analyze both walls and slabs in the same model, as the slabs help provide stability for the overall structure," said Hecktor.
"With SCIA Engineer, we were able to put together a full building model rapidly, and the automatic meshing capabilities of the program provided a mesh that was clean — there was some refining we had to do, of course.  The architect we were working with also has a tendency to (drastically) change the structure fairly frequently, and we needed to be able to give them a quick thumbs up or thumbs down on their revised designs. They work with Rhino to model structures, so they would just send us their updated model, we would create or update our SCIA Engineer model, run a quick analysis, and give them enough information to continue moving forward.  I don't think we would have been able to do this with any of the other modeling software we have in our office."
With the ability to directly import the architect's Rhino design software into SCIA Engineer, KPFF Consulting Engineers saved tremendous time and money as they could quickly import, analyze and draw onto it. The high level of interoperability allowed for a faster and productive design cycle.
"We decided to use SCIA Engineer because of the capability it has and how it can analyze compete structures," said Hektor. "The calculation output is better than almost any U.S. engineering software. We've been able to do projects that we would not have been able to do otherwise. SCIA Engineer has allowed us to have a quick turn around and easily refine the drawing down to a final product. "
Success with Complex Designs
Hektor says her office uses this 3D modeling-based technology on a project-by-project basis, usually reserving use of the technology for complicated structures that can't be analyzed otherwise. Hektor noted that they've used the program to draw or give the architect a different direction, and for deflection diameter numbers, stress, stresses within the concrete walls, and foundation loading.
Using advanced 3D modeling technology, the National Music Centre in Calgary was able to resolve design and structure variances in an expedient and efficient manner. Unusual and complicated design can now be safely and accurately checked through the design process with the ease of operability the program allows. KPFF Consulting Engineers continues to use the program for complicated design projects.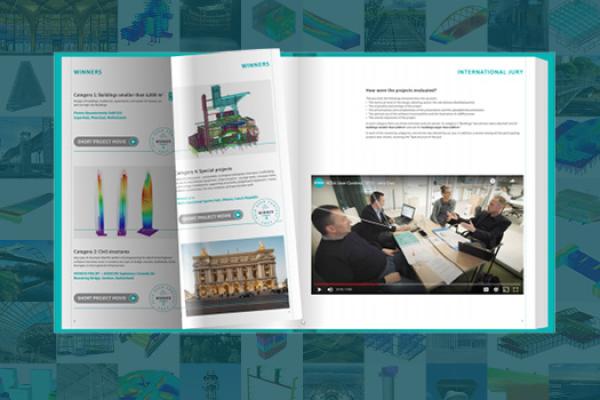 SCIA USER CONTEST
SCIA has been organising user contests for years in which all kinds of projects can participate.
Curious about our last contest?
New: Now stacked with many embedded project and testimonial videos