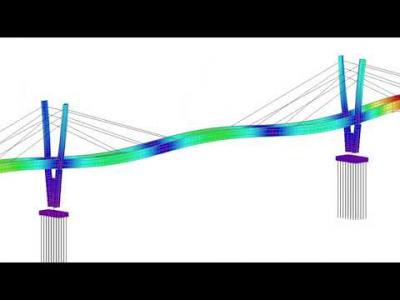 The aim of this project is to bridge the vast railway infrastructure in the town of Cheb and enable pedestrians and cyclists to travel safely between the city centre and its outskirts.
The pedestrian bridge of the total length of 400 m is formed by a continuous structure made of prestressed concrete. The bridge deck is formed by two edge beams and a deck slab which will be incrementally launched over the railway yard. Due to strict requirements of the railway authority, the main 87 m long span was designed as suspended in order to minimize the number of supports in the railway yard.
SCIA Engineer was used for a comprehensive simulation of the behaviour of the cable-stayed and pre-stressed concrete structure. The construction stage module allowed us to estimate the initial stage of the structure and determine cable forces. We also used the dynamics module for both a free vibration analysis and seismic analysis. The support stiffness iteration helped us optimise the type and size of the bridge foundations in order to minimize the disruption of the railway yard.
Client information
Stráský, Hustý a partneøi s.r.o. can assist clients in the design and construction of a wide range of bridge and motorway structures, from pedestrian bridges to multi-lane long-span structures, and unique or special designs for landmark structures.
A creative approach is applied to all designs - from large-scale projects to small bridges. Our commitment is to ensure the highest level of performance and integrity for every client we serve.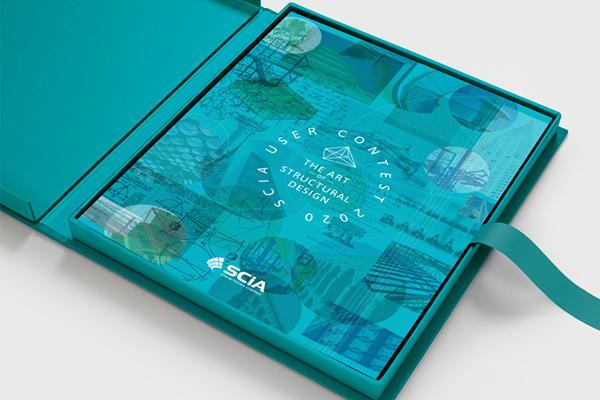 SCIA USER CONTEST
SCIA has been organising user contests for years in which all kinds of projects can participate.
Curious about our last contest?