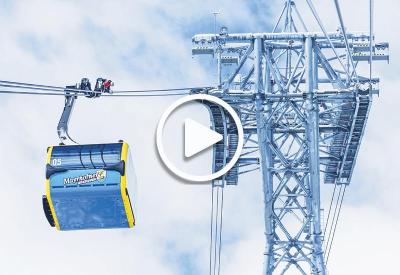 The Penken 3S lift marks another 'world first' from Doppelmayr/Garaventa: as the first of its kind to incorporate a curved alignment. This is made possible through the development of a new rope guidance configuration in combination with a curved tower. The curved saddle has a length of 50 m and an angle of 6.5°. The lattice tower is about 45 m high and has the basis of 11 x 18 m. The shaft consists of CHS-profiles with dimensions from 127 x 10 up to 508 x 25 mm. The saddles are welded I-beams with a height of up to 1,000 mm with a flange thickness of 15 mm and web thickness of 10 mm. The tower has a weight of approximately 185 t. 
In addition to the innovative curved solution, the Penken lift features Doppelmayr's proven recovery concept, the easy boarding principle and WLAN in the cabins. The Penken 3S lift is an integral part of a modern, comprehensive vision for transport heralding a new era of mobility for base and mountain areas in Mayrhofen.
"Very good representativeness of the different loads, wind, friction."
The forces which have to be resisted by this tower are really impressive, and the main challenge was the forces due to the horizontal rope deflection. The rope pressure of about 1,800 kN in vertical direction and 600 kN in horizontal direction must be resisted by the tower in the height of 42 m. Combined with the other loads (wind, snow, rope friction, etc.), this results in moments around the two main axes of 60,000 and 55,000 kNm at the foot of the column.
In this challenging project, SCIA Engineer helped us a lot thanks to its flexibility and functionality. As always, creating the model was very simple and the steel and stability checks were carried out completely in SCIA Engineer. The verification of the connections was done with the help of Excel templates and FEM calculations for which the SCIA Engineer model provided the necessary internal forces.
Client information
As a quality, technology and market leader in ropeway engineering, Doppelmayr/Garaventa operates production plants as well as sales and service centers in over 40 countries worldwide. To date, the Group has built more than 15,000 installations for customers in 96 countries. Flexibility, know-how and pioneering spirit make the Group ideally equipped to meet all the challenges of both traditional and new markets.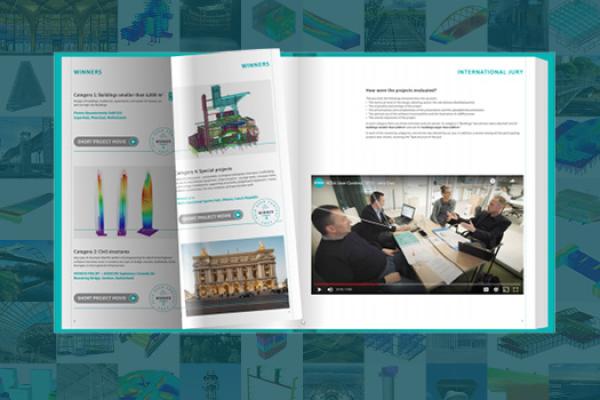 SCIA USER CONTEST
SCIA has been organising user contests for years in which all kinds of projects can participate.
Curious about our last contest?
New: Now stacked with many embedded project and testimonial videos