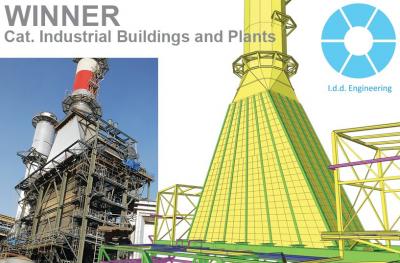 The climate in Saudi Arabia causes a constant demand for electricity, from both industrial and domestic sectors. The new power plant is the answer to the high demand. It is located in the coastal area, 100 km southeast of Jeddah in Saudi Arabia. With its modern and highly efficient power generation equipment, the Shoaiba II is a combined cycle power plant with an output of 1,200 MW.
This power plant produces electricity by burning crude oil. It features 10 gas turbines and two steam turbines. One gas turbine cylinder is 60 m high, and its diameter is 4.6 m. The ground surface at the bottom of the transition piece is 26 x 13 m.
The project challenges
There were numerous challenges to be considered in the design:
the total weight of the heavy equipment and extensive piping,
the buckling effect of the plated transition piece which is self-supporting and takes the weight of the cylinder above,
all the connection details that had to match together.
Applying American standards with SCIA Engineer
The structure of the cylinder and its transition piece was modelled using 2D-plates and stiffening beams. The internal furnace structure was modelled in a separate SCIA Engineer project to verify that it meets the seismic requirements (0.30 g).
Seismic analysis, general vibration analysis for wind vortex, and stability check were used to verify that the model fulfils all the prescribed criteria. The eigenfrequency of the main structure was designed to comply with the wind vibration mode of the American standards.
SCIA Engineer was also used for steel checks according to American standards.
Thanks to a good optimization of the plate thickness of the upper shell, the client reached a 30% reduction in the weight of steel.
"This project combines several requirements. First, we have the analysis of different influences like seismic, dynamic loads and wind vibrations. Second, applying the American Standards for the check of the structure. Further on, the combination of beams and surfaces were a big advantage to proof the complete construction and to optimize the weight of the steel structure."

Quote of the Jury
I.d.d. Engineering's Power Plant project is the winner of the SCIA User Contest 2017 – Category 3, Industrial Buildings and Plants.
Download the User Story from our User Contest book:
Download
Client information
I.d.d. Engineering bvba is an engineering office near Brussels specialising in steel and concrete structures and foundations, primarily industrial plants and civil structures such as bridges. Established in 2010, the company has designed many structures all around the world, including Africa, Asia, Australia and the Middle East.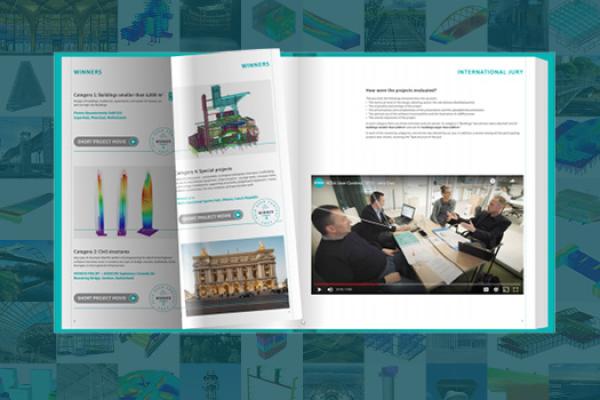 SCIA USER CONTEST
SCIA has been organising user contests for years in which all kinds of projects can participate.
Curious about our last contest?
New: Now stacked with many embedded project and testimonial videos