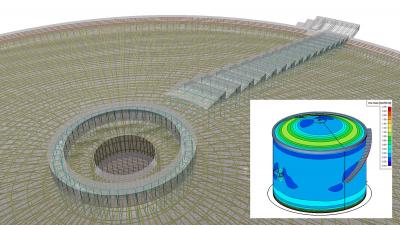 The Digester is a semi-buried structure. The underside of the bottom slab is found at 9.5 m below ground. The internal diameter is 20 m and it has a height of 19.1 m. The bottom slab is 40 cm thick and has a conical shape. Alongside the external circular wall, the bottom slab has its thickness enhanced to 80 cm, forming a 100 cm cantilever projection over the face of the wall. This cantilever reduces the contact pressure between structure and ground underneath the walls. The external walls are 40 cm thick and 14.50 m high. There are circular stairs, 20 cm thick, cantilevering from the wall. The whole structure has been designed in reinforced concrete.
The structure was modelled in SCIA Engineer and the results (stresses, areas of steel reinforcement and tensions) were taken from this model. After some iteration, we found the definite model that gave us the parameters for designing and detailing of the structure. According to the diagrams the maximum stress on the ground was 2.20 kgf/cm².
From the analysis information obtained in SCIA Engineer, the design was created using Eurocodes along with the application of some criteria given by NBR 6118. The critical elements were verified in both codes. The software Allplan Engineering was used to produce the 3D model and drawings of all concrete elements of the structure, including reinforcement drawings.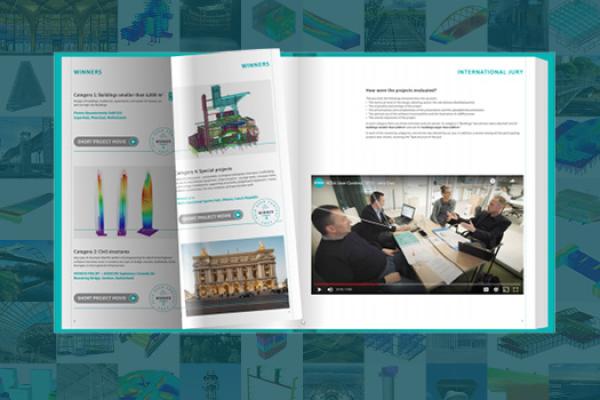 SCIA USER CONTEST
SCIA has been organising user contests for years in which all kinds of projects can participate.
Curious about our last contest?
New: Now stacked with many embedded project and testimonial videos