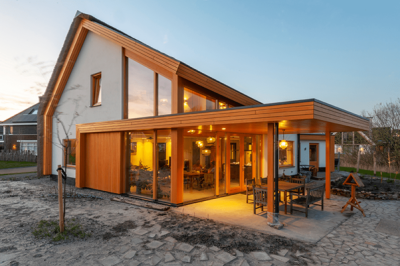 De Zonnegroet in Zeewolde is a warm passive house made of lime hemp in a dynamic design language and finished with high-quality ecological and bio-based building materials.  
This detached house has been designed by ORIO architects from Soest. In the Zonnegroet, the design resulted in a challenging spatial puzzle, in which B2CO, Bureau voor Bouwkundig en Constructief Ontwerpadvies from Ede was happy to perform the structural design.
Richard Fielt, an engineer, structural designer and BIM specialist at B2CO explains the project:  
"For the design of the structure, we used intensively SCIA Engineer, in which the entire building model was created and in which most of the structural parts were also engineered. This provided a powerful communication tool within the design team, with which both the technicians and the clients could be well informed​." 
Challenges start with the construction site, Zeewolde, itself. There is a lot of clay in the soil. Therefore, an Urban Base slab foundation was chosen - a continuous reinforced concrete slab with edge beams on a well-insulating and load-bearing layer of foam concrete. This type of foundation is capable, with the help of the equilibrium principle and good load distribution, of ensuring very low ground pressures, which results in small settlement. The superstructure consists of 95% timber structure (roof panels, floor slabs, walls and façades, beams and columns), supplemented by a steel girder at the location of the living room on the ground floor. This space had to be given a relatively large free span and there was no room for a laminated beam. Even though the building model was somewhat complex, it was very easy to model it in SCIA Engineer and, perhaps even more interestingly, adapt it where needed. Therefore, SCIA Engineer is an effective design tool, in which several variants can be calculated easily without losing sight of mutual structural connections. Also, orthotropy is used extensively in the model, allowing load transfer in one direction. In addition, the stability walls are only active in the wind load cases. As a result, the vertical load is directed downwards without the arching effect. Stability is certainly an important factor in (lightweight) wooden structures. Using the above method, everything is contained in one integral calculation model, which avoids duplication of work and the risk of inconsistent partial models." 
This project has been nominated for the National Timber Building Prize 2021  
Collaborating parties: 
Urban Base – contractor for foundation 
van Wijhe – main contractor super structure 
Koops&Romeijn – consultant foundations 
ORIO – architect 
© Photos: Martijn Heil - De Architectuurguide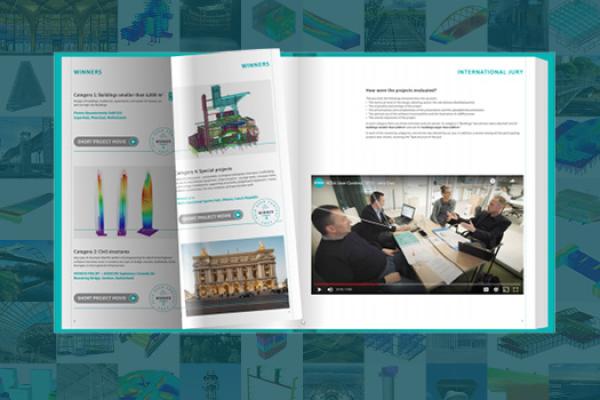 SCIA USER CONTEST
SCIA has been organising user contests for years in which all kinds of projects can participate.
Curious about our last contest?
New: Now stacked with many embedded project and testimonial videos