How to create a document template?
The document in SCIA Engineer is used to create a full calculation note.
Even though a clear presentation of the calculation is important, the goal should always be to spend as few time as possible on the creation of a calculation note.
Therefore SCIA Engineer offers the possibility to create templates that can be reused in other projects.
The first time the user should create his own template by composing the document himself.
Once the document is complete, it can be saved as a document template.
If the cursor is on top of the document tree, the action save template will be available in the actions menu.

The document will be saved as a .TDO file.
This TDO file will contain the contents of the document and if required also the layout of the document.
Note: To take into account the layout properties of the document (for instance: precise contents of the tables defined by table composer, header template, ...) the option 'Embedded document templates' can be ticked on.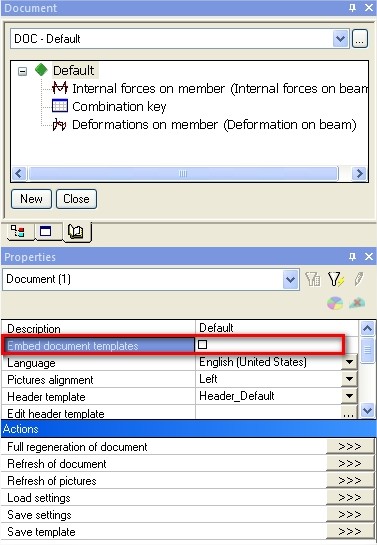 After the template is created, it can be used in other projects.
When a new (empty) document is opened, the action Load template will be available in the Actions menu.

After loading of the template, it is sufficient to regenerate the document to link the contents with the project.
A few tips to make efficient use of document templates are the use of nested tables and the zoom all lay-out of pictures.
By this, the template can contain a variable amount of load cases and combinations and still represent all loads and results.
The pictures will be centralized automatically because of the zoom all option.
Only the detailed images could be added afterwards.