Warning "Can't open data from next version"
The warning message 'Can't open data from next version' means the project you want to open is saved in more recent version of SCIA. Projects that are saved in a next version cannot be opened in a previous version. This issue occurs when you create a project which is saved in SCIA Engineer 21.1 and try to open it in SCIA Engineer 21.0 or older.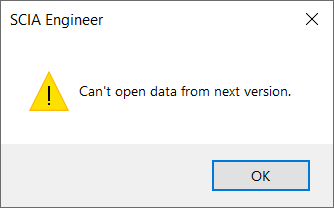 This behaviour is not applicable for the exchange of projects between different patches of the same version of SCIA. For example, you can open a project created in patch 21.1.2027 in patch 21.1.0023 without receiving any error messages.
If necessary, it is possible to transfer a project (partially) to an older version of SCIA Engineer via XML.