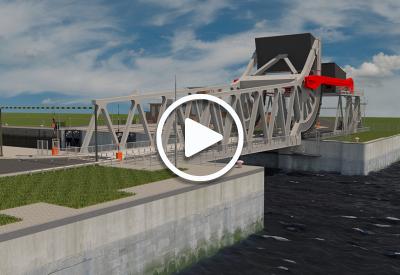 At the request of Maritieme Toegang, the existing movable bridge over the Boudewijn sea lock was replaced. The new movable bridge is of the Scherzer type, it spans 50 m and has a width of 16 m, making it one of the largest of its kind. During the bridge-opening phase, the bridge rolls backwards, guided via teeth and upstands on horizontally laid roller tracks. The driving mechanism is composed of rack beams driven by electric motors placed in an engine room above the roadway. In the open position, the tip of the bridge soars 63 m above the lock platform. Operation management of this new bridge is in hands of the Port of Antwerp.
The bridge was designed for intensive port traffic, both road and rail. As the available bridge width was limited, the tracks are recessed into the roadway, allowing traffic to pass over them unhindered.
An extensive BIM-oriented model was used by all parties to seamlessly integrate the steel structure with the electromechanics and also with the existing concrete structures of the lock head and with the road and rail infrastructure.
SCIA Engineer was used in all design stages of this challenging project. A global model was used for ULS-calculations, global stability checks and frequency analyses. Detailed plate and shell models allowed us to accurately determine the fatigue design life of the bridge, and raise it to the required 100 years.
 
Client information
Tractebel provides a full range of engineering and advisory services throughout the life cycle of its clients' projects, including design and project management.
As one of the world's leading engineering and advisory companies and with more than 150 years of experience, it's our mission to actively shape the world of tomorrow. With about 5,000 experts and presence in more than 70 countries, we are able to offer our customers multidisciplinary solutions in energy, water and urban industries.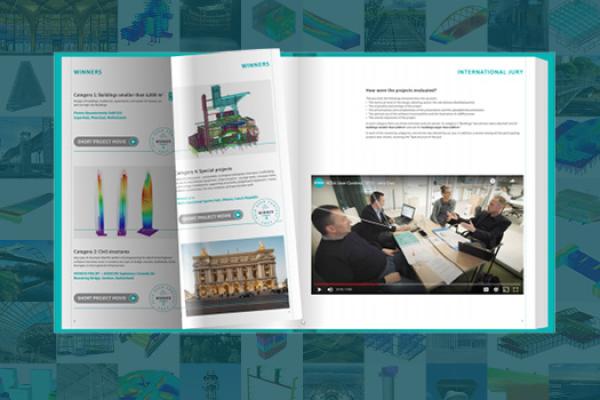 SCIA USER CONTEST
SCIA has been organising user contests for years in which all kinds of projects can participate.
Curious about our last contest?
New: Now stacked with many embedded project and testimonial videos