The National Football Stadium at Windsor Park in Belfast, Northern Ireland, is home to Linfield FC as well to the Northern Ireland national team. 
The expansion project started in 2013 with the aim to transform Windsor Park to an 18,000-seater stadium. The developments included the South and East stands, two large corners and a feature cladding enclosure (The Quaver). The south stand is the largest section of the project, measuring about 115 m in length. 
Smart split of a complex structure into separate 3D models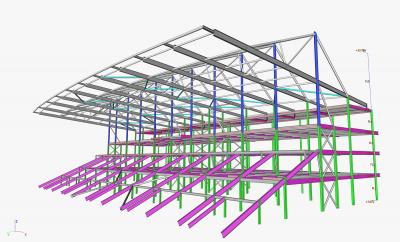 The structure of all stands is comprised of a steel frame with composite metal deck slabs. The roof concept is consistent across the stadium and consists of a cantilevered column and rafter system with stay support. At each bay a single mast with three stay members support cantilever rafter beams. The cantilever length varies between stands and is 26 m in the worst case. Each stand can be considered as a standalone unit separated via movement joints. Therefore, the structure of the whole stadium was split into several partial 3D models. In addition to models for each stand, a separate model was made for the Quaver and a simple model was created for a fast verification of rafters.
The 3D models were made of 1D members in combination with load panels, which allowed for a fast and transparent introduction of all loads.
Model in SCIA Engineer East stand
BIM with SCIA Engineer, Rhino and Revit
The flexibility to input and manipulate geometry in SCIA Engineer's XML API access was instrumental in allowing a close collaboration with the sports architects. As a national stadium, the building had to be iconic, but in order to bring best value to the project, the structural design needed to be relatively understated. This meant combining rationalised structural design whilst also allowing for landmark features such as The Quaver. Such a design could only be completed in a versatile platform and SCIA Engineer was used across the board to design each stand in isolation and combined with Rhino to support a single output Revit model.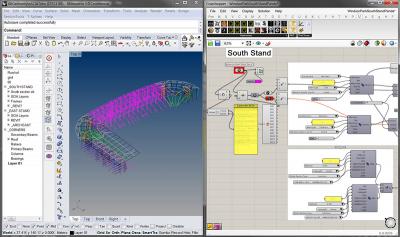 Model in Rhino conversion to SCIA Engineer
Client information
AECOM is a global provider of professional, technical and management support services to a broad range of construction and infrastructure markets. 
With approximately 51.000 employees around the world, AECOM is a leader in all of the key markets that it serves, providing a blend of global reach, local knowledge, innovation and technical excellence in delivering solutions that enhance and sustain the world's built, natural, and social environments. 
From major road and rail projects to energy generation, water management systems and creating beautiful and successful buildings and places, AECOM in Europe works closely with clients across all areas of the built and natural environment.
Our teams of award-winning engineers, designers, planners and project managers ensure that our solutions outperform convention. Combining global resources with local expertise provides exceptional, high-quality, cost-effective professional and technical solutions.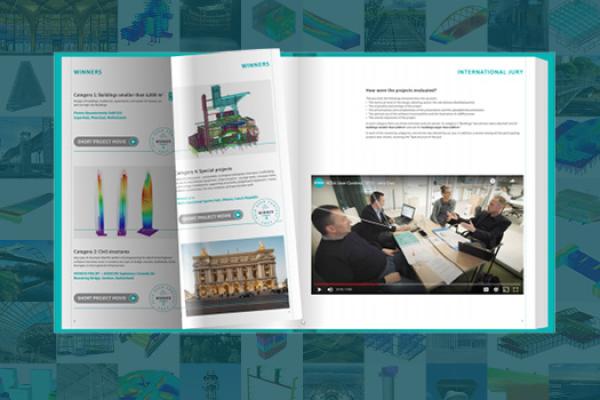 SCIA USER CONTEST
SCIA has been organising user contests for years in which all kinds of projects can participate.
Curious about our last contest?
New: Now stacked with many embedded project and testimonial videos