Arch Bridge Across the Rhein-Herne CANEl

The "The Six Spots" bridge is a bicycle and pedestrian bridge with a platform for various events attached to the track. The project is a result of the TKH subject, directed by Prof. Dr.-Ing. Michael Maas, at the Hochschule Bochum.
The assignment was to design an arched bridge that would be an alternative to the existing double arched bridge over the Rhein-Herne Canal in Nordsternpark by Stefan Polonyi. The new bridge was supposed to have the same track width of 5.50 m and be designed, like the original, for both pedestrians and cyclists. In addition, a 100 m² terrace had to be connected to one side of the track as a platform for events. The number, arrangement and tilt of the arches did not have to correspond to the original bridge and were freely selectable to match the new concept. The goal was to carry out a complete dimensioning of all essential bridge components with the help of SCIA Engineer. The assignment was to perform stress and deformation checks. As an extra in-depth analysis, the shape of the arch had to be optimized.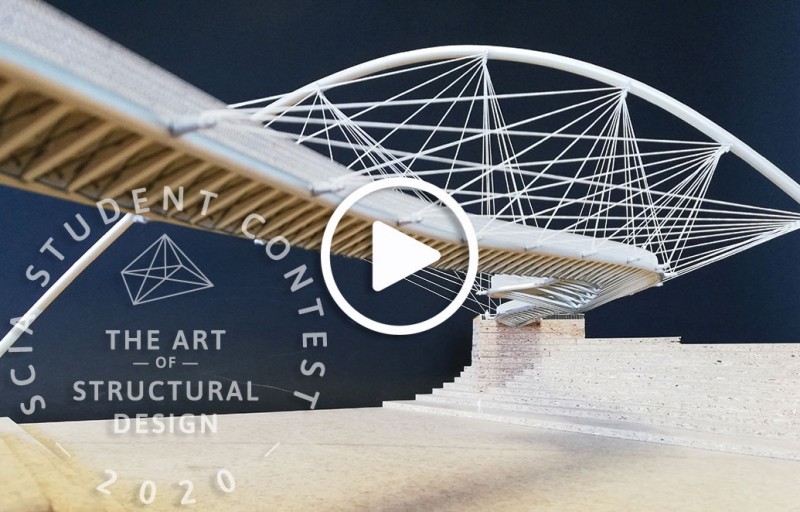 Conceptually, the shape of the bridge was designed with the aim to bring the event platform into focus. On the one hand, the cable construction forms an architectural sculpture that imitates spotlights illuminating the middle of the bridge. On the other hand, the constellation of the cables and the arch make the bridge perceptible from a distance as a special place. The track is shaped in such a way that the event platform is located centrally on the main axis and the visitor must walk around it.
Rhino 6 was used as a design/modelling tool and the beam structure was imported into SCIA Engineer. This allowed me to design the "The Six Spots" parametrically and at the same time perform the static analysis and checks in a comprehensible way.
 
Winner SCIA Student Contest 2020
"The jury was impressed by the architecture of the parametrized bridge. A parametric design was done using a link from Rhino to SCIA Engineer combined with the optimization of the arch form."

Quote of the Jury
Discover this project in our SCIA User Contest Book 2020