Announcing the winners of the SCIA Student Contest 2021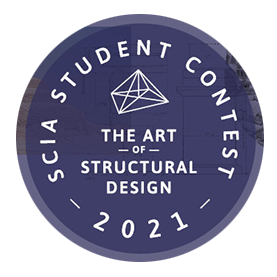 the winners of the SCIA STUDENT Contest 2021 and their impressive and inspiring work 
The structural engineering students of today are our professional partners of tomorrow. Because we, at SCIA, believe in the capabilities of students and the source of inspiration they can be, we organise a yearly student contest in which students who use SCIA Engineer can show us their art of structural design. 
This way students can maximise their exposure and show the international industry their work. Not only do winners receive extensive media attention, they also get a money prize. An ideal first professional step in the AEC industry if you ask us!
Three SCIA professionals with many years of experience, Gino Vanstraelen, Kindah Almalloul and Bjorn Vandensteendam, have examined the entries thoroughly and were pleasantly surprised by the quality and the diversity of the entries. Picking a winner was a difficult job and the scores of the different projects were close together. "We were truly amazed by the ways in which our software was used for different kinds of projects", Bjorn says.
We proudly present to you the three winners of the 2021 SCIA student contest:
 
Winners