The Geneva - Saint-Julien tram serves as an extension to the existing Geneva tram network, connecting with the Grand-Lancy infrastructure. It represents the second cross-border tram project in the canton, following the Annemasse tram. One significant aspect of this project involves the crossing of the A1 motorway via the PS du Champ des Aulx, linking the municipalities of Plan-les-Ouates and Perly-Certoux, where the future tram and TPG bus lines will pass. 
The project encompasses the design and construction of a remarkable long-span metal bowstring bridge spanning 130 meters. This bridge features welded radial hangers and is accompanied by approach ramps. The load-bearing system consists of two independent arches inclined outward at a 12° angle, with ten hangers per side. 
Notably, this project showcases one of Switzerland's largest steel bowstring bridges, necessitating meticulous dimensioning of the load-bearing elements. The design includes an unstabilized arch spanning over 130 meters, adding to its technical complexity. 
The modeling of the bridge involves a comprehensive nonlinear approach, incorporating a fully modeled shell representation of the supports, including shell-beam connections. 
SCIA Engineer played a pivotal role in realizing this complex model, enabling the interaction of shell-beam elements within a single model. The software's capabilities were fully leveraged, enabling nonlinear second-order analyses, bifurcation stability assessments, and consideration of the construction's evolution and phasing, including the launching of the structure. 
This project is a winner in the SCIA User Contest 2023.
This project has the particularity of being launched over the motorway in a single shot operation and required a high level of expertise to approach its behaviour in the launch phase.
Client information
MONOD-PIGUET + ASSOCIES Ingénieurs Conseils SA develops engineering activities in the fields of structures and buildings, transport infrastructure, special works and general project planning. We offer comprehensive services in the areas of consulting, design, execution methods, project management and decision support. Our team consists of about fifty employees, and is located at Lausanne in Switzerland. 
MONOD-PIGUET + ASSOCIES Ingénieurs Conseils SA is independent of banks, construction companies and any industrial group and is entirely owned by the company's managers and employees.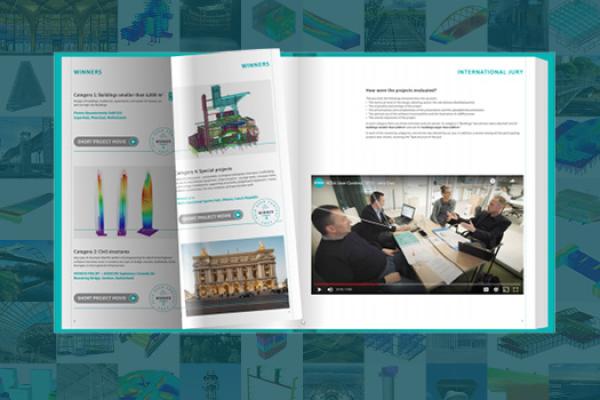 SCIA USER CONTEST
SCIA has been organising user contests for years in which all kinds of projects can participate.
Curious about our last contest?
New: Now stacked with many embedded project and testimonial videos