SCIA Engineer 17 and 17.1 bring a large number of new features and improvements dedicated to Boosting your Productivity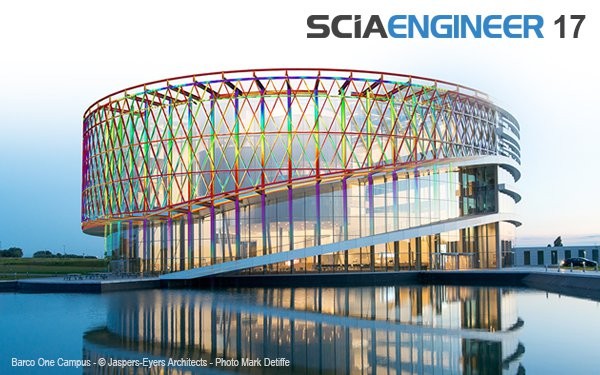 Powered by cutting-edge technologies, the new version of SCIA Engineer gives you higher speed, increased overall efficiency and transparency to power your day-to-day work as well as challenging and special projects.
The newly developed enhancements spread over five areas:
Concrete design: comprehensive and robust solution for the design of concrete columns, beams, slabs and walls featuring an efficient, logical and time-saving workflow.
Steel design: economical design, clear and verifiable reports, and increased speed in the design of steel structures.
BIM: effective collaboration with partners, real-time task management.
Loads and load generators: easily verifiable and more versatile automated load definition.
Overall usability: increased efficiency in the day-to-day work, excellent understanding of structure behaviour with new extended display options, and wider international application thanks to added Eurocode's national annexes.

Want to know more about the release?
Watch our webinars:  SCIA Engineer 17.0and  SCIA Engineer 17.1
View the highlights below or explore the version in more detail in the SCIA Resource Centre:   v. 17.0and  v. 17.1
You can also ask for a Free SCIA Engineer Trial
Rigid diaphragm
Rigid in-plane diaphragms combined with tributary-area distribution for gravity loads offer a good approximation of the actual behaviour of composite slabs leading to clear and verifiable results obtained for a reduced computation time.
Extended functionality for US codes
Improved functionality and workflow for composite design according to US codes including automatic creation of staged load combinations, enhanced design code related settings and simpler more efficient modeling process.
Updated Revit link
SCIA Engineer 17 link with Revit 2018 offers extended capabilities such as:
Compatibility with Revit 2018.1.

New in 17.1

Smart algorithm for material and cross-section mapping.
Support of high-stress concrete.
Multilingual support.
Export / import of composite beams and decks.

New in 17.1

Export / import of virtual joists.

New in 17.1
One-click export from Allplan
Smooth and more effective collaboration with Allplan.
Direct launch of SCIA Engineer from within the Allplan menu.
Automatic import of the model to SCIA Engineer.
Next generation task management - bim+
Real-time collaboration on even complex models.
Easy tracking of all modifications in the model.
Support of BIM collaboration format BCF.
Load panels tributary areas
Distribution of loads from load panels to supporting beams using the well-known Tributary areas method.
Distribution of surface loads across panels with openings.

New in 17.1

Interactive graphical display of tributary areas on a screen.
Full understanding and easy verification of the load distribution process.
3D wind-load
Extended capabilities of 3D wind load generator with support of parapets and protruding roofs.
Calculation following the regulations of the Eurocodes (including Austrian, French, Belgian, German, Dutch, Slovak and UK National annexe) IBC code.
ASCE compliant live load reduction
Reduction of regular, heavy and roof live loads in full accordance with ASCE 07-10.

New in 17.1

Automatic recognition of tributary and influence areas.

New in 17.1

Robust and customisable handling of columns that support multiple floors.

New in 17.1

Versatile output possibilities, graphical visualization and error / warning / note reporting.

New in 17.1
User-selected usability enhancements
Better readability of labels and result values in the 3D window.
Ability to run the analysis only for selected load case(s) and/or combination(s).
Ability to export the Table Input and Table Results to MS Excel with a single click.
Engineering Report
Fast and reliable manipulation with large pictures inside the Engineering Report.
Easy way to insert tables from Microsoft Excel.
Extended graphical results with legend directly next to the drawing.
Units of measurement
Easy change of unit sets in the project.

New in 17.1

New default settings for empirical and metric units.

New in 17.1