Expanding Design.
"Expanding Design": The latest version of Scia's structural analysis and design software delivers capabilities to move beyond the traditional limits of 3D structural analysis software by integrating engineering design workflow, even with customized modifications.
Open Design – integrated workflow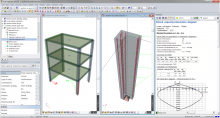 Open Design Checks enable engineers to integrate their tailor-made calculations into Scia Engineer and to follow the standard workflow they are used to. They can exploit all powerful features in Scia Engineer (3D interactive modelling, adaptive FE mesh, advanced checks performed in a 3D interactive graphical environment, table input and results…) and integrate the external outputs into the Engineering Report. Open Design Checks bring an extraordinary level of transparency to all performed calculations and new checks on beams & columns. Its' reports provide a deep insight into the calculation, including images, formulas, substituted values and results.
Analysis & Results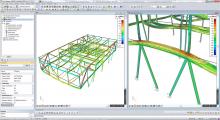 The key factor affecting the accuracy of results of the finite element analysis is the quality of the mesh. In Scia Engineer 14 we are proud to present the automatic adaptive mesh refinement. The new version brings also new or enhanced features streamlining the evaluation of results such as 3D results, table results, Engineering Report templates…
Usability improvements

Like previous versions, version 14 is focusing on enhancements helping users with their day-to-day tasks. The improvements cover many areas: project manager, geologic areas, loads and load combinations, steel connections, design of steel structures, BIM, exchange of models with third-party applications, protection, installation …
 
Interesting Links
See our recorded webinar on Scia Engineer release 14
Read technical articles in Scia Resource Centre
More info also in our May eNews topic 
Read more at 14.scia-engineer.com