We are proud to announce the latest version of SCIA Engineer. Version 15 comes with several breakthrough features, and dozens of improvements in all areas of the software. Here is a short list of some new functionalities.
What is new in SCIA Engineer 15.3
SCIA Engineer 15.3 is a service release focusing foremost on quality improvements and fixes. Next to this, several improvements were brought to selected functionalities, including:
​Steel-Concrete Composite Structures
Updated manufacturers catalogues for steel decks, including filtering per region
Support for re-entrant stiffeners in decks
Steel decking provides additional torsional restraint to LTB in construction stage
Support for simplified one-way decks
LTB checks to EN 1994-1 (previously only to AISC 360).
Fire safety verification according to EN 1993-1-2/EN 1994-1-2
Limitation of crack widths as per EN 1994-1-1, §7.4.2-3.
Steel Connections
Additional output type: "summary" output (next to brief and detailed)
Support for the "20% rule" in the verification of the Beam flange and web in compression for moment-stiff connections.
Output of bolt-row classification and effective lengths of T-stubs for splice connections
Support of 4 bolts per row in moment-stiff end-plate connection
Reinforced Concrete Structures
Design and code-checks of ribs in slabs.
New reinforcement template for cross-shaped sections
New approach to the deflections of 1D member based on the search for a minimal beam stiffness
General Improvements
Selected rows in the Table Results are indicated on the model by a "red cross" mark
Faster refresh of Table Results after modifications in the Property Window
Easy removal of no longer required Table Results to reduce the project size
Automatic Mesh Refinement can now be performed for a group of load cases
Filters are now available also in the System Libraries (e.g. for manufactured profiled sheeting).
Fast feedback through "Smiley" icons on the application window.
Read more in SCIA Resource Centre
Go to the download page
What is new in SCIA Engineer 15.2

Besides the new product logo, release 15.2 of SCIA Engineer is bringing many new features with emphasis on dynamic analysis,  virtual joists, design according to US codes - composites, prestressed concrete, timber, aluminium and finally concrete & composite design.
Other improvements and extensions can be found in numerous parts and functions of the program:
Equivalent lateral forces: simplified and easily verifiable static equivalent method for seismis analysis
Composite beam design to EN1994: LTB, fire resistance, stud design, effective width calculation
Composite beam design to AISC 360-10: faster Autodesign
SCIA Concrete Section (SCS) EN 1992: now supports multiple combinations
Engineering Report: import of PDF, in-cell coloring of tables, etc.
Usability improvements in Table Input and Table Result
Analysis of prestressed structures according to IBC code, incl losses calculation
EN 1993 steel connections: article EN 1993-1-8 Article 6.2.6.7 (1-2) for flanges and web in compression
Virtual joists: smart mapping and checking of joists to AISC>
Open Checks extensions
And more !
Read more about our new and improved features in the SCIA Resource Centre
What is new in SCIA Engineer 15.0 and 15.1
Fully redesigned EN1992 concrete design for beams & columns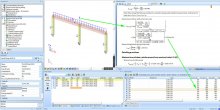 To bring our concrete design modules to a new standard, it is completely rewritten from the ground up with the latest development techniques. Designing reinforced concrete beams and columns with SCIA Engineer is now:
Faster: supports fully multiple cores
Transparent: thanks to our Open Design technology, formulae, dynamic images, interaction diagrams
Powerful: all section shapes (standard as well as arbitrary), all loading conditions are supported
Complete: additional checks like design of shear reinforcement for columns, shear & torsion, check of deflection to short & long-term
Easier to use: re-organized service (tree menu), new settings dialogue, etc.
New analysis model (FE-based) for steel-concrete composite floors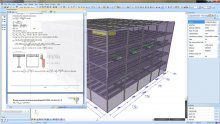 The new Composite Floor Analysis Model combines user-controlled load distribution, easy definition and accurate FEM calculations based on exact orthotropic properties of corrugated steel decks and concrete toppings:
Calculation of stages: construction, short-term, long-term
Updated shear studs library and steel decks library
Automatic effective width of the composite beams
Works for any geometry of the floor or the building
Composite beam design to EN1994 and AISC 360-10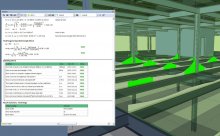 After analyzing the model, the composite beams are designed according to AISC 360-10 or EN1994, with a clear calculation report based on our Open Design technology.
Ultimate Limit States and Serviceability Limit States
Shear strength (including shear buckling)
Calculation of the shear connectors
Optimization of the steel profile
Brief or detailed reports with formulae and pictures
Plastic analysis of steel plates & shells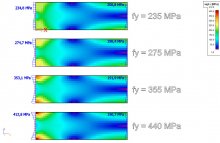 One of the priorities resulting from the user survey, conducted at the end of last year, is released today: it's now possible to run a plastic analysis for steel plates and steel shells.
This can be useful for connections, steel details, pressure vessels, etc.:
Von Mises yield condition
Elastic-plastic law, without or with strain hardening
Open Design technology for surfaces and nodes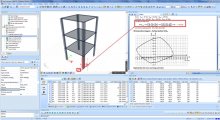 Create your own checks & calculations for all the objects of your model: beams, columns, surfaces and nodes:
Checks for surfaces, on each individual FE element
Checks for joints / connections / nodes
Simple script editor, with WYSIWYG rendering of formulae
Direct opening of the script editor from within SCIA Engineer
4 sample checks are delivered for easy understanding
Other general improvements include:
General UI: keyboard shortcuts, table input & results enhancements
Engineering Report: master report, batch generation, better handling of templates
3D stresses & displacements on both faces of surfaces, on the deformed shape
Steel design: lots of improved checks & output
Steel connection design: top haunches
Updated codes: Eurocode National Annexes, Brazilian code, Swiss code
Code support for Malaysia & Singapore
Updated interfaces to Autodesk Revit
And much more!
Quick links
More info on 15.scia-engineer.com
SCIA Engineer 15.0 recorded webinar
SCIA Engineer 15 Setup download