Problem with the installation of the flexid driver. The dongle isn't recognized by LMtools
Alladin Hasp versus Flexid
Some of our customers have reported problems using the FlexID dongles:
The driver could not be installed (messages that the driver is already installed but it isn't)
The dongle is not recognized/detected in LMtools
In all of these cases it seemed that the customers were also running other network dongles on their server:
Aladdin HASP dongles
We have done several tests and eventually we found out that our FlexID USB key also runs on the HASPdriver. So, probably there is a conflict between older HASP drivers and the FlexID 9 driver since the new HASP driver is compatible with FlexID.

Therefore we worked out the following solution for customers who have HASP and want to use our FlexID:
On this website there are two drivers:
HASP Device Driver GUI
HASP Device Driver Command Line version
Our dongles work with both.

The GUI version is put in Add/Remove Programs, the Command Line version is not.  Customers most of the time have the Command Line version, so it is not easy to find a way to de-install it.
Since the GUI does not overwrite the Command Line version it is recommended to download the Command Line version: Hinstall.zip
Install the command line version using the parameter –i
 
Click on "Start -> Run" and type in the window that appears: cmd

Browse to the folder which contains the hasp-driver
example: C:\FlexLM\HASP4_driver_cmdline
 
Execute the installation using the parameter -i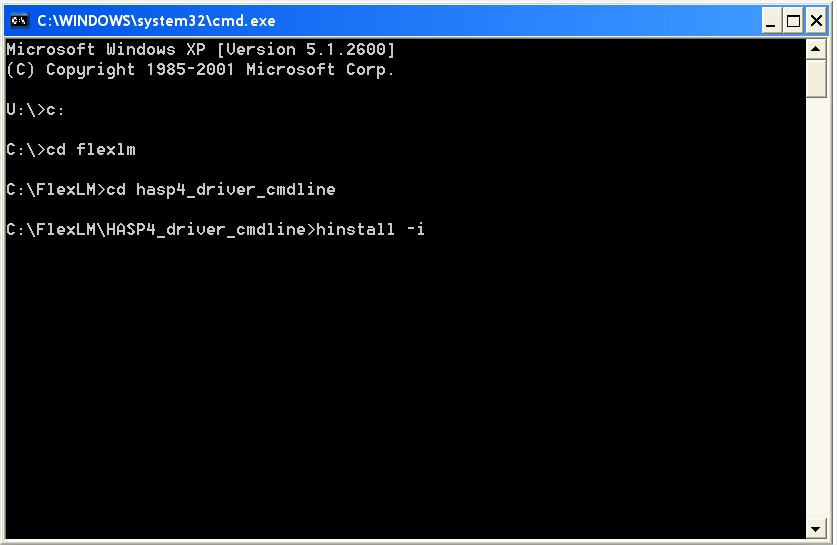 Attach the FlexID USB key
The key is now recognized as a HASP key AND it is recognized within LMTools!
In this way, the customer needs only one driver for both systems: HASP and FlexID