Valid licence has not been found. SCIA Engineer cannot continue.
If the protection update did not succeeded, the following screen will appear when double clicking on the SCIA Engineer icon: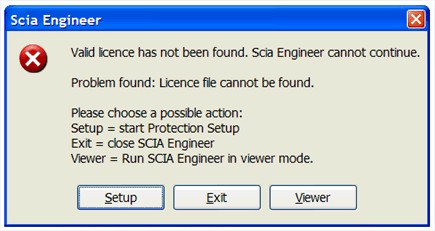 SCIA Engineer cannot start without a correct protection. Press [Setup] to run the protection setup to update the protection.
The Protection setup will be displayed:

Activate the option Only standalone and click on Import licence file.
The licence file will be downloaded automatically from the Scia Protection server and the following message will appear:

Press [OK] again to close this message.
Once the licence file has been successfully imported, the user can see the list of his commercial modules in the "Expand" mode of the Protection setup.
Press [OK] again to close the Protection setup.
Normally Scia Engineer will start up automatically. If the program does not start, double click on the SCIA Engineer symbol to start the program.
When the protection update succeeded SCIA Engineer will start up and the installation is finished.
Remark 1
In this procedure the correct licence file will be searched on the server online. If you computer has no internet connection of the .lic is corrupt and could not be imported, you can find the correct .lic file of your dongle on the installation DVD of SCIA Engineer or on our website
This file can be imported manually by clicking on "Import licence file".
If you do not find any correct .lic file, you can always contact the support department of SCIA Engineer ([email protected]).
Remarks part 2
Automatic import of LIC file from the SCIA protection server is possible when the dongle is attached to the computer and when internet connection is available.
Import of LIC file can be done only if the user has writing rights on the installation folder for the Licence file (see also note below).
When using an edition and dynamic packet of SCIA Engineer you will find next to the SCIAxx.lic-file also a SCIAxx.e2c-file. In this case you have to take care that both files are stored in the same folder when importing the license file. When you import the license file from the DVD the files will be automatically in the same folder.
It is possible to change the path to the folder where the licence file will be imported by right-mouse button clicking on the header of Protection setup dialogue:

Choose here for [Advanced settings...]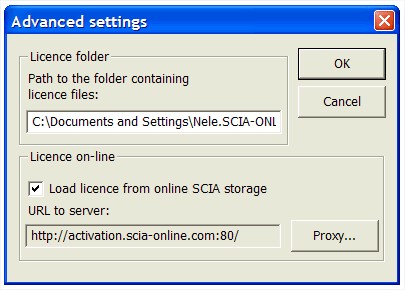 And here the path to the folder containing the licence file can be adapted.