General Improvements - What added value will the Cross section enhancements bring me ?
Cross sections data is the basis of any structural analysis. With the improvements in the Cross section engine the main focus was on transparency, speed and openness.
The entire calculation of properties has been re-developped from the bottom up, including a brand new 1D FEM calculation method for thin-walled sections which supports any number of openings.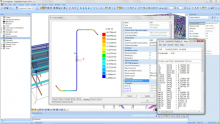 The performance of the overall calculation has been boosted by using a new cache for 2D FEM results which reduces the amount of cross-section calculations.
All properties now have a proper description and tooltip, the list of properties has been extended with plastic magnitudes, mono-symmetry constants etc.
A new Theoretical Background document is available which gives an insight to the applied calculation methods of all properties.