What are the Key Benefits of SCIA's Maintenance and Support Agreement?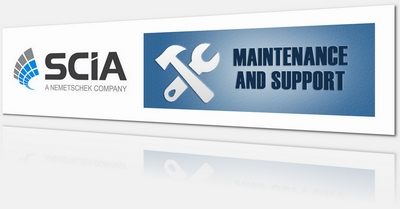 Maintaining your organisation's edge requires the uncompromising ability to keep technology and software assets current.
SCIA 's 'Maintenance and Support Agreement' is designed to directly address these concerns in the most cost-effective manner possible for your organisation.
SCIA offers extensive resources to help you.
Let's have a look at the top 10 benefits of such an agreement:
 
1. Personal User Account on the SCIA Website
As a maintenance customer you can register and receive a Personal User Account (login) for the SCIA Website.
After having logged in, you get access to all restricted areas, such as:
Protected Downloads Section, providing you with valuable online resources.
Protected entry page for submitting new support questions.
Overview sheet and tracking system of all your personal support questions and answers (support tickets).
2. Get all new Major Software Releases automatically
At least once a year a new software version is released on DVD and automatically sent to the customer. Such a major software release includes:
All software corrections (bug fixes) since the previous software version.
New features,enhancements and improvements in the software and available editions.
Code dependent software updates (e.g. when a national code changes).
3. Access to all new Software Service Packs
Services packs are software updates that are released every 2 months and that are available for download via a superfast line in the Protected Downloads Section or via the menu item 'Check for Update' in the software. SCIA also maintains an RSS feed. This is a subscription service which notifies automatically all subscribed members when a new software update is available (https//www.scia.net/en/scia-rss-feeds).
4. Access to the list of all Solved Software Bugs
For each new major software release and for each new service pack a detailed list of all corrected bugs is provided for consultation in SCIA's Protected Downloads Section. This list is only available for customers with a maintenance and support agreement.

5. Online management of Support Questions (Tickets)
Each maintenance customer has the possibility to create, manage and access his/her personal support requests and questions via the website. Such a support question is saved as a SCIA support ticket. At any time, you can create new support tickets, track the progress of existing open tickets, or consult the tickets that have been answered and closed.
6. Priority Customer Support by E-mail
Using one centralized email address ([email protected]), a customer can at any time send his support question, if necessary with attachments, to our Product Services Department. This email will be automatically converted to a support ticket that shows up in the customers support tickets overview page. The customer will receive a confirmation of his/her request once it is registered. Requests that are sent to SCIA per email will receive priority handling.
7. Priority Customer Support by Phone
All maintenance customers can call their local Product Services Team to get instant support. This service is available during normal local offi ce hours. We have several local support centres in Austria, Belgium, Czech Republic, France, Germany, Netherlands, Slovakia, Spain, UK, United Arabic Emirates, USA, and many more.
8. Support by Remote Control
Our support engineers can easily control a user's computer remotely, in real time and worldwide via the internet. 
This enables them to take over the customer's screen and mouse to solve any technical issue or perform online inspection of the customer's hardware. SCIA uses a remote tool, which can be started from within our website.
9. Support is given by Highly Qualified Engineers
The Product Support Department is staffed with highly skilled and trained engineers. In general, SCIA Engineer support is given by experienced civil engineers, and Allplan support is given by most capable architects.
This enables the customer to communicate on an elevated technical level, and consequently shorten the time to solve any possible issue. Did you ever wanted to meet our Customer Services Engineers in person? Well, you can, as they will also attend our habitually organized user seminars in your area.
10. Fast and High-Quality Services
The quality of the support service is continuously measured and improved. We regularly organise surveys, giving us the necessary feedback to lift up the quality of our software solutions and services. Did you know that SCIA can guarantee that:
More than 80% of all SCIA Engineer support requests are treated and closed within 1 working day
More than 95% within a week
The remaining 5 % mostly includes requests for enhancements of existing functionalities or suggestions for new software features. These requests will be put on our customers' improvements wish list.

Information about renewal and cancellation of a Maintenance and Support Agreement: 
Renewal: a Maintenance and Support Agreement is valid for a period of 1 year, and is renewed automatically for a period of 1 year.
Cancellation: a maintenance and upgrade agreement can be cancelled in writing and at least 3 months before the end of the maintenance period.
Get the most out of your investment with a SCIA Maintenance and Support Agreement.
No question is considered too trivial or too complex, we can and will solve it …

HELPING YOU IS OUR TOP PRIORITY!